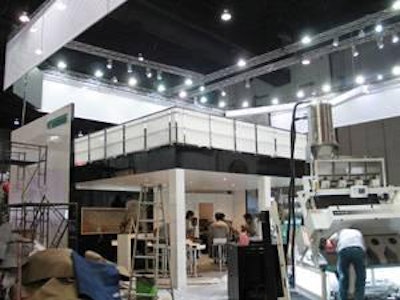 With more than 200 exhibitors racing to put the final touches on their booths, Victam Asia 2012 is preparing to open in its new venue, the Bangkok International Trade & Exhibition Centre, February 15-17.
According to Andy West of Victam International, the new venue is already demonstrating its advantages. "With two halls that can be made into one, BITEC makes it possible to have extremely large exhibits such as Muyang and Bühler in the same space," West said. The venue is 40 percent larger in square meters than the one used in 2010.
Victam Asia's previous venue, Queens Sirikit Convention Centre, worked well in many respects, but was not conducive to some of the large machinery that exhibitors wanted to bring. "Here at BITEC, there are no pillars. That allows more equipment to be moved in," West explained.
West is aware of 22 new products that are scheduled to be launched at the show. Exhibiting staff is in excess of 1,100.
Although the largest machines on display will not be in operation, some equipment will be running, such as a grain sorting machine.
"There's a 13-ton piece of equipment in there," West said. "We're not able to power up and run something that size. At least not yet."