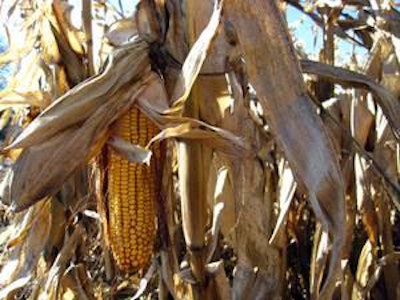 The U.S. poultry industry has asked Congress to lower the amount of ethanol required to be added to motor gasoline as a way of decreasing the demand for corn, which has driven the commodity's prices from $2 per bushel in 2006 to more than $8.00 per bushel currently.
Corn is the primary component of chicken feed, which accounts for 55% of the wholesale cost of whole, ready-to-cook chickens, and 40% of the U.S. corn crop is being diverted into federally mandated ethanol usage. "The National Chicken Council recommends a plan be implemented that would reduce the Renewable Fuels Standard when the stocks-to-use ratio for corn drops to low levels, as the situation is now," said industry executive Michael Welch at a hearing held by the Livestock, Dairy and Poultry Subcommittee of the House Agriculture Committee.
Less than 700 million bushels of corn are expected to be left at the end of the 2011 crop year, said Welch. "There is no cushion, no extra bushels in inventory to carry the needs of the users of corn through the next crop year in the event of a shortfall in this fall's corn harvest," said Welch. "To assume an adequate number of acres will be planted to corn this year and the next few years and to further assume favorable weather conditions for crops this year and the next few years are not assumptions the U.S. chicken industry is prepared to make, nor should prudent U.S. government policymakers be willing to make."
The industry has said that it would like to see the mandate reduced to allow non-ethanol users greater access to corn.