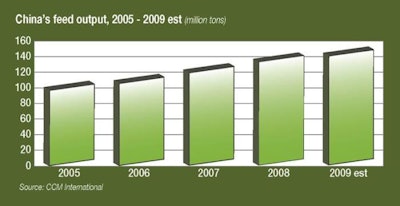 The Chinese feed industry has changed tremendously over the last decade. Total feed output is now comparable to that of the US and the EU, while 10 years ago the country was able to produce only half this amount. Despite this growth, uncertainties remain for the industry, particularly the lack of feed ingredients.
In 1980, industrially-produced feed in China stood at only 1.1 million tons. By 1990, with an average annual growth of 3.08 million tons, this figure had risen to 31.94 million tons. By 2000, the country's industrially-produced feed output had grown to 74.29 million tons, and reached 148 million tons by 2009. By 2009, the value of industrially-produced feed had reached Yuan 426.6 billion (US$65 billion), up from Yuan 20.7 billion in 1990.
With rising living standards, consumption of animal products will continue to increase, and this, in turn, will increase demand for animal feed products.
New focus
Yet it is not only output that has increased, the industry has also been characterized by increasingly stringent controls and higher standards. Random sampling of feed was conducted in China for the first time in 1987. At this time, only 20% of samples passed inspection. By 2009, this figure had reached 91.51%, while the rate for formula feed stood at 95.9%.
China is currently an importer of methionine. In 2001, the country imported 60,000 tones of methionine, and 80,000 tons in 2006. By November of 2010, imports had reached 97,000 tons, and for the year as a whole imports were expected to exceed 100,000 tons.
However, the Chinese market for methionine is changing. In September 2010, Chongqing Unisplendour Tianhua Methionine Co Ltd announced that it had built the first production plant in China for feedgrade DL-methionine, allowing domestically-produced mentionine to be purchased for the first time. Several other methionine projects are under construction in Jiangsu, Liaoning and Sichuan provinces, meaning that more locally-produced methionine products will soon be appearing on the market.
It is expected that there will be at least seven mthionine producers operating in China, each with an estimated annual output of 20,000 tons. China's production capacity for feeedgrade methionine is expected to reach 500,000 and, given that the country only consumes some 100,000 tons of methionine each year, producers will look to export overseas with the advantage over competitors of having lower production costs.
A similar story is unfolding for other feed additives. Over the last decade, China has become an exporter of a variety of additives, of which vitamins A, C, and E and choline chloride have taken some 30-50% of the global market. China's net exports of lysine reached 72,000 tons in 2009.
Shortages
Across all feed ingredients, protein is what China needs most. As the biggest protein exporter in the world, 70% of all protein needs to be imported. Over recent years, China has been importing some 50 million tons of soybeans and 1.2 million tons of fish meal each year, with a value of Yuan 150 billion.
This high dependence on imports has led some of the country's experts to suggest greater use of agricultural waste in feed. For example, sugarcane and cassava have been extensively planted in Guangxi province, resulting in tens of millions of tons of plant waste each year. This waste could be turned into animal feed, however, such usage remains on the horizon and China will remain a major importer for the foreseeable future.
Need for change
There are still problems with the variety of feed products available in China. An obvious problem is that many feed producers still only offer mixed feed and feedstuffs, only rarely producing concentrated feeds, premixes or feed additives. This leads to lower efficiency in animal production.
However, this is a two-way street, and the current structure of China's livestock production does not encourage the feed industry to alter its product offer. In China, pigs consume 40% of all feed products, while poultry accounts for 43%, cattle and sheep account for the remainder. This division of demand for feed in China needs to be compared with average global feed consumption, whereby pigs account for 31%, poultry for 17%, and cattle 26%.
Looking ahead to changes in the Chinese feed industry, by mid-decade, 30% of the feed companies currently operating will no longer exist. According to domestically-produced statistics, in 2009 there were 12,291 feedstuff processors in the country, down by 9.7% on the year before. This trend is expected to continue as livestock operations increase in scale and margins for feed producers become tighter.
As the industry's need for capital increases, more companies are expected to become listed, and this is expected to lead to consolidation. Additionally, as the Chinese feed ingredient market becomes integrated into the global market, domestic producers are expected to see their costs go up. Within five years, China's producers could be facing costs similar to those of western operator.
As China's overall economy grows rapidly, it is starting to seek overseas markets for its capital, technology and products. Some major Chinese enterprises have already entered the global market, for example, the New Hope Group, which has made progress in Vietnam and some other nieghbouring countries. Countries such as Vietnam, Laos, Cambodia, Burma, North Korea and Kazakhstan would seem to be relatively appealing markets for China's producers, however, despite their larger markets, India, Russia, South Korea and Japan, are seen as currently having market access levels that are too high.