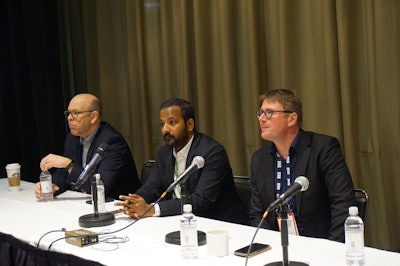 Antibiotic replacement animal feed additives can improve feed strategies in many instances. However, they can be a waste of money for farmers if they haven't focused first on proper farm management, said Dr. Randy Mitchell, vice president of Perdue Farms, during his presentation at the 2018 Feed Strategy Roundtable, Antibiotic growth promoters: Feed additive alternatives & replacement strategies, sponsored by Provimi and held at the 2018 International Production & Processing Expo (IPPE).
"Antibiotic replacements look great in models, but don't solve problems in the field. Blame additives, but it could be water sanitation, litter management or chick quality," Mitchell said. "Management is most important, beyond just making sure feed is sufficient."
For the Perdue Foods specialist, water quality is one of the most important things farmers should focus on because it can cause other problems on the production chain. There are also regional differences to consider before changing or adding additives, or even checking if there's a clean bedding for the birds.
"If we could go back [in time, we would] explain better to farmers. They just went along for the ride. They are an important part of the equation. I think we overlooked it. We give technical expertise — best water, ventilation — but, at the end of the day, they are taking care of chickens on farms… management is critical," Mitchell said.
One of the tips he gave for choosing the right replacement strategy was looking "at the whole production chain from what you're [doing in] live production because you can't separate your live production from what you're doing in feed."
He added it is important to realize that feed and live production "are complementary to each other." Focusing on both as a whole can help farmers understand what they're "really trying to accomplish by adding something to the feed."
View the video below, which was shot live at IPPE by WattAgNet, to hear more from Mitchell about feed additive alternatives.