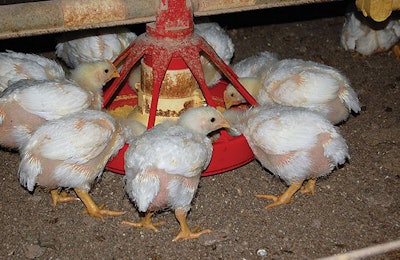 Removing antibiotics from poultry growing is making diseases like coccidiosis and necrotic enteritis more common and troublesome on broiler farms. There are ways, however, to prevent the profit-draining maladies.
Dr. Charles Hofacre, president of the Southern Poultry Research Group and professor emeritus at the University of Georgia, presented five guiding principles for successful antibiotic-free poultry (ABF) production as part of WATT Global Media's Feed Strategy Conference, which took place on February 13 during the 2019 International Production & Processing Expo in Atlanta.
The five guiding principles are that:
Coccidia must be controlled.
The feeding program must be designed to succeed in an ABF system and properly managed.
Feed ingredient quality must be high.
Healthy gut bacteria must be maintained.
The flock's bacteria and virus load must be reduced.
1. Controlling coccidia
Hofacre said the first grow out of an ABF flock is the most successful run, but more challenges will be encountered in subsequent flocks.
"What happens is, the broiler house has a flora and that flora of bacteria, of coccidia, are established by the antibiotics that we were using, by the ionophores we were using," Hofacre said. "Once we stopped using them, different bacteria begin to proliferate. So that first grow out is still living off of the effects of our years of using an antibiotic. The next grow out is not."
Better coccidia control can lead to fewer cases of necrotic enteritis (NE). Hofacre said there should be a minimum of 14 days of down time between flocks to let bacteria and viruses die down and allow the litter to dry. Trouble starts when that downtime is reduced.
Hofacre said using completely new litter for each new flock increases the risk for NE, too. When growers clean out the house and put in fresh shavings, they run a higher risk of having trouble with the disease caused by the pathogen Clostridium perfringens.
Enzymes, prebiotics, probiotics, organic acids, inorganic acids, phytoceuticals and immune stimulants or modulators are all successful NE interventions, but they must be used in combinations. Hofacre said no single product will replace antibiotics. Instead, growers will need to use a combination of products and different combinations will work in different places.
2. Running the feeding program
The goal of a feeding program is to feed the chicken, not the bacteria. A good feeding program is key in ABF production. In this program, timing is everything.
Highly digestible protein should be fed early in a bird's life but a high protein diet early can lead to higher risk of NE. Timing of feed changes is critical, too. Feed should not be changed at the same time maximum damage from coccidian parasitic microorganisms is occurring.
"The feed change really is based on the cocci control program," he said. "If you make your feed change at the same time that you're getting maximal damage from the coccidia, you're just adding an additional stress upon that intestine. You're putting a lot of pressure on those birds to keep the Clostridium at bay."
Care should be taken to make sure feed withdrawal does not occur. Farmers must not let the birds run out of feed. Hofacre said if they ever run out of feed, then birds will binge eat when the feeder comes back on.
Animal welfare programs may potentially clash with keeping a strong feeding program. Dark periods in the houses' lighting program can discourage natural feeding cycles. If those periods are too long, some birds may be pushed to miss the normal period of time they should be eating.
3. Using quality feed ingredients
Good quality feed ingredients are also important to maintaining good gut health and, therefore, good flock health.
"Bird health is gut health," Hofacre said.
Poor-quality feed ingredients, rancid animal byproducts in feed and mycotoxin contamination can all contribute to compromised gut health and intestinal epithelium damage.
4. Maintaining a healthy gut flora
The health of the breeder hen should not be overlooked, either. Broiler chick quality is critical to broiler flock health.
"We focus highly on broiler production and forget about the effects that that breeder hen can have on the normal flora of the baby chick," he said.
Egg pack is critical to this. Eggs should be clean. Husbandry and house management actions should be taken to prevent floor eggs.
5. Reducing bacteria and virus load
Hofacre said he takes a minimalist approach to viral vaccines to keep down the bacteria and virus load on a flock. When dealing with infectious bronchitis and Newcastle disease vaccines, he uses the mildest possible vaccines. This keeps the stress off of a bird's immune system.
"The less that we stress that chick on an (ABF) program, the better they're going to do," he said.
A water treatment program can be used to combat viruses and bacteria as well. This includes the addition to water of disinfectant, aspirin, mucolytic agents, antibacterials such as phytogenics and short- and medium-chain fatty acids, and coccidia control agents such as amprolium, saponins and essential oils.
Feed Strategy Conference was presented by WATT Global Media and Feed Strategy and sponsored by Alltech, Borregaard LignoTech, BV Science, Delacon, Evonik and PMI.