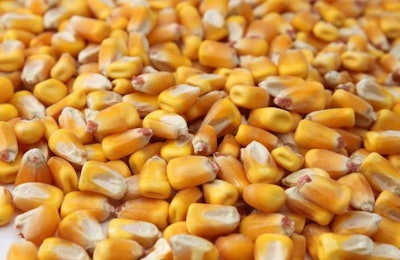 Objective of the decision is to contribute to food security, sovereignty
Mexico has banned genetically modified corn and plans to phase out GMO corn imports and the use of glyphosate, a broad-spectrum herbicide, by January 2024.
The government decree, published in the Official Federal Gazette on December 31, 2020, states Mexico will "revoke and refrain from granting permits for the release of genetically modified corn seeds into the environment." The objective of the decision is to "contribute to food security and sovereignty" and protect "native corn, cornfields, bio-cultural wealth, farming communities, gastronomic heritage and the health of Mexicans."
The decision has been criticized by the country's agricultural industry but praised by organic growers, according to a Reuters report. It was unclear whether the decree will phase out imported GMO corn for livestock, or whether the rules will only apply to corn grown for human consumption.
Advocates of GMO corn say the ban will limit the options of Mexican farmers and could threaten the security of the food chain, as the import of genetically modified grain from the U.S. is essential for many products in the agrifood chain.
"The lack of access to production options puts us at a disadvantage compared to our competitors, such as corn farmers in the United States," Laura Tamayo, spokesperson for Mexico's National Agriculture Council (CNA), said to Reuters.
Tamayo is also a regional director for the German multinational pharmaceutical and life sciences company, Bayer, whose agro-chemical subsidiary Monsanto makes the herbicide Roundup, with the active ingredient being glyphosate.
Organic farmers say the move will help protect small farms, reduce groundwater and surface water pollution, and protect drinking water supply, thereby contributing to broader food safety and sustainable agriculture. The president of the Mexican Society of Organic Production, Homero Blas, described the government's decision to ban GMO corn and gradually replace the use of glyphosate as a "huge victory."
Mexico depends on imports of mostly GMO yellow corn from the United States for livestock feed. U.S. corn exports to Mexico in 2019 were US$2.7 billion, according to U. S. Department of Agriculture (USDA) Foreign Agriculture Service data, making Mexico the U.S. feed industry's largest export destination.
Mexico ranks as No. 6 in the Top 10 largest global compound feed producing countries, according to Feed Strategy's 2019 Top Feed Companies report. In 2019, this sector generated approximately 230,000 direct and indirect jobs throughout the country and produced more than 36.5 million metric tons of feed in more than 550 feed mills, ranking Mexico as the world's sixth largest animal feed producer.