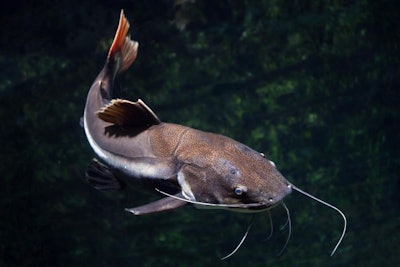 Almost 1,000 people have been offered training in aquaculture in Lagos state to encourage a greater level of self-sufficiency in fish production.
In the southwest of Nigeria and bordering the Atlantic Ocean, Lagos state is among the West African country's most economically important regions. Despite its location, the state produces only around 40% of the fish required by its population of 22 million.
According to the state agriculture minister, Olayiwole Anoasanya, fish production in Lagos amounts to 155,262 metric tons (mt) per year, which compares with demand of 374,000 mt. To meet demand, fish valued at around US$1 million is imported.
Speaking at a recent event focusing on investment opportunities in fish farming organized by the ministry, he said that the state government had trained 953 people in aquaculture, reported Punch.
The minister highlighted the investment opportunities present in developing aquaculture in the state, and stated that stress on the state's foreign exchange reserves could be reduced if fish imports could be at least partially replaced by domestic fish production.
In 2017, Nigeria's aquaculture sector produced more than 296,000 metric tons (mt) of fish, crustaceans and mollusks worth more than US$848 million, according to the United Nations' Food and Agriculture Organization (FAO). Several species are produced in significant volumes, the most popular being the North African catfish (155,325 mt), other catfish (30,650 mt), carp (25,227 mt), tilapia (22,534 mt) and Nile perch (16,470 mt).
Nigerian aquaculture appears to have been undergoing a period of stagnation recently. One year previously, in 2016, FAO put the country's total comparable output at more than 306,700 mt, valued at around US$876 million.
In Africa's most populous country, Nigeria, nonprofit organization WorldFish is working to strengthen the country's aquaculture sector by providing training as well as conducting research. The organization estimates total fish production in Nigeria at just under 1 million metric tons per year, of which almost 760,000 mt is from small-scale fisheries, and 313,213 mt is derived from aquaculture.
In East Africa, the municipality of Bukoba in Tanzania has recently announced it is setting aside certain areas of Lake Victoria for fish farming operations. Aims of the move are to reduce illegal and uncontrolled fishing, boost the local economy, improve the nutrition of the area's population, and offer new export opportunities.