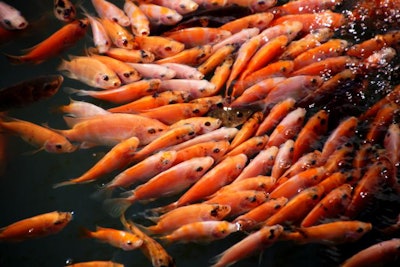 With a series of only partially successful past initiatives to expand fish farming in the Ghana, one stakeholder is calling for strategic thinking to promote aquaculture in the West African country.
Key to the strategy should be the development of sustainable aquaculture, according to Patrick Apoya, chief executive of SkyFox Ltd., a non-governmental organization in Ghana.
"To promote aquaculture, there is a need for inclusive aquaculture policies to address financial and technical challenges," Apoya told The BFT Online.
Apoya proposed the adoption of innovative fish farming methods, such as the integration of aquaculture with crop production, so that nutrient-rich waste water from fishponds can be treated and then used to water the plants. SkyFox won a grant from four international donors to implement just such a project. Aquaculture infrastructure should be incorporated at all irrigation sites, he said.
Ghana's population has a growing demand for fish products, around 100 million metric tons (mmt) per year, according to Apoya, increasing at an annual rate of 2.5 percent. Domestic production accounts for only about 40 percent of this demand, he says, so the country is now importing at least US$146 million of this commodity each year.
The situation is gradually getting worse as the result of dwindling catches from overfishing of marine and freshwater fish stocks.
Ghana's aquaculture sector received some government support in the form of a 10-year program in 2005, but Apoya says it succeeded only in raising output from 5,000 metric tons (mt) to 40,000 mt.
He called for inclusive policies that would make for a sustainable aquaculture sector in Ghana, and turn the country into a net exporter of fish.
According to the United Nations' Food and Agriculture Organization (FAO), Ghana produced 57,405 mt of aquaculture products in 2017, all of which were freshwater species. The same source put output at 52,480 mt in 2016, worth an estimated US$53.7 million. Of this total, 50,900 mt was Nile tilapia (Oreochromis niloticus), 1,200 mt African catfish (Clarias gariepinus), 110 mt African arowana (Heterotis niloticus), 260 mt of miscellaneous bony fish, and 10 mt of giant tiger prawn (Penaeus monodon).
In 2017, the Ghanaian government announced in was setting up a new company dedicated to aquafeed production.
Recently, the Asian state of Brunei Darussalam has been encouraging investment in its aquaculture sector, and new initiatives have been announced in South Africa, Saudi Arabia, Malawi, India, South Korea, Canada and Australia.
Closed seasons for Ghana's fishing fleets
In order to preserve dwindling marine fish stocks, Ghana's Ministry of Fisheries and Aquaculture has recently announced a series of closed seasons for fishing fleets in the country's marine waters, reports News Ghana.
The closed season for inshore and artisanal fleets will be from May 15 to June 15, and during the months of August and September for industrial trawlers. Tuna fishing fleets were not permitted to fish in January and February of this year.
As the season dates were announced, Eric Opoku, Ranking Member on Food, Agriculture and Cocoa Affairs, called on the government to support domestic fish production in order to reduce the country's reliance on costly imports.
Last year's closed seasons were canceled, but the Ministry has confirmed its intention to apply the restrictions this year.