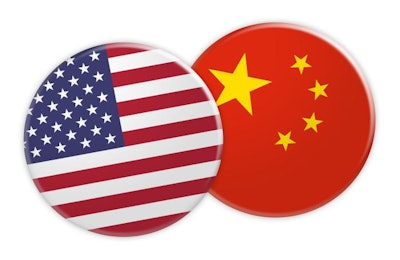 China has booked its first significant purchase of U.S. soybeans in more than six months, according to a Reuters report.
Although this is good news for U.S. grain traders, soy futures were down as traders were hoping for more deals.
"There was talk we'd see like 5 million tons over the next few days, so we will need some follow-through buying from China, especially outside of" China's state-run buyer Sinograin, one U.S. trader told Reuters.
The sales, totaling 1.13 million tons of soybeans, come after U.S. President Donald Trump and China's President Xi Jinping agreed this month at the G20 summit in Buenos Aires, Argentina, to hold off on new tariffs. The two countries have been involved in a trade riff throughout most of 2018.
At the time of the G20 announcement, the U.S. said China had promised to purchase an "unspecified but 'very substantial' amount of agricultural, energy, industrial and other products, with purchases of farm goods to start 'immediately.'"
In 2017, the United States produced 119.5 million metric tons (mmt) of soybeans, the most on record, according to SoyStats. It exported 56.2 mmt, with China buying 37.5 mmt – nearly $12.4 million in whole soybeans and $24 million in soybean oil. Since trade tensions between the U.S. and China began, soybean prices have been falling – from a 2018 high of $10.77 per bushel to a low of $8.14 per bushel.