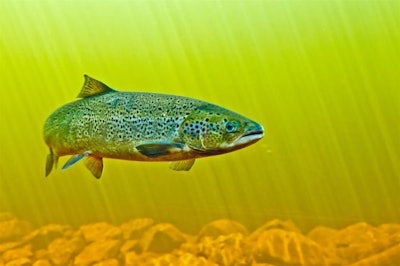 Skretting, a global leader in aquafeed, has started a process of consulting with employees with the view to cease production in the U.K. at the end of April 2019.
This move is aimed at reducing the overcapacity in the highly competitive salmon feed market, and better utilize the company's existing production facilities in Europe. The company has no plans to stop production in other markets and will continue to pursue its firmly established growth strategy.
"Unfortunately, we are experiencing unsustainable market conditions in the U.K. With a new large feed plant becoming operational in Scotland early 2019, the total feed capacity in the region is expected to exceed the total market by more than 50 percent. This is driving down prices, leading to an unsustainable commercial environment," said Therese Log Bergjord, CEO Skretting. "We have therefore made the decision to start consulting with our employees on a proposal to cease feed production in the U.K."
Skretting will continue to supply to the U.K. market where economically viable.
"This is a tough decision for Skretting's management team and our owner, Nutreco, considering the implications for our local employees and partners. In the proposed plan, all locations, including two production sites, will close down, and around 100 employees may become redundant. First and foremost, we now concentrate on finding good solutions with our employees, customers, suppliers and partners in the U.K.," Log Bergjord said.
While Skretting experiences regional market challenges in the U.K., the group actively pursues further sustainable expansion of the global aquaculture industry from its operations in 19 countries across all continents.
"Aquaculture is an increasingly important and attractive solution to meet growing demand for healthy food. As the global leader in aquafeed, we are fully aware of our responsibilities. That is why we are prepared to take tough decisions to ensure sufficient profitability to finance our future and to remain a pioneer of continued sustainable development of the aquaculture industry," Log Bergjord said.