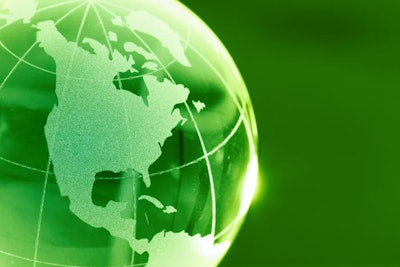 Ten animal feed producers in North America were among the 100 companies worldwide that met or exceeded 1 million metric tons of compound feed production in 2017, according to WATTAgNet.com's Top Feed Companies database.
North America's top feed companies produced 64.95 million metric tons (mmt) of animal feed in 2017.
Read on to find out more about the top 10 animal feed producers in North America in 2017. Click on the company's name to get more information from WATTAgNet.com's Top Feed Companies database.
Cargill is heavily involved in a range of food, agricultural, financial and industrial interests, including a significant division of Animal Nutrition & Protein, which operates at 280 locations in 40 countries. Brands for beef and dairy cattle, poultry, swine and aquaculture include Nutrena, Provimi, Cargill, EWOS and Purina. In 2017, Cargill acquired the animal feed division of Southern States Cooperative in the United States and Pollos El Bucanero in Colombia. The same year, to meet increasing demand from its Southeast Asia operations, Cargill also opened its first animal nutrition premix plant in the Philippines and added a piglet feed production line to its existing premix and nutrition facility in Tianjin, China. In 2017, Cargill produced 19.6 mmt of animal feed at its 39 feed mills.
Land O'Lakes is the second-largest American farm cooperative. U.S.-based Purina Animal Nutrition, its wholly owned subsidiary, constitutes the core of Land O'Lakes' animal nutrition division. Land O'Lakes also owns Mazuri, which produces animal feed for zoo keepers, veterinarians, breeders and exotic pet owners. Land O'Lakes does business in all 50 American states, and upwards of 50 countries. Land O'Lakes produced 13.5 mmt of animal feed in 2017.
Purina Animal Nutrition develops, produces, markets and distributes animal feed to the lifestyle and livestock animal markets. The company is a wholly owned subsidiary of U.S. farm cooperative Land O'Lakes. In 2015, the Land O' Lakes animal nutrition unit, the core of which is comprised of Purina Animal Nutrition, delivered record-setting performance, attributed gains in market share and accelerated growth. Purina Animal Nutrition, which operates only in the U.S., was formerly named Land O'Lakes Purina Feed. It is a national organization serving producers, animal owners and their families through more than 4,700 local cooperatives, independent dealers and other large retailers across the United States. The company produced 13.5 mmt of animal feed in 2017.
Tyson Foods is a major global poultry, pork and beef integrator. Major sales markets include Brazil, Canada, Central America, China, the European Union, Japan, Mexico, the Middle East, South Korea and Taiwan. Tyson Foods operates 32 feed mills, including three in China and India. Foreign operations are Cobb-Vantress, a global chicken breeding stock subsidiary; Tyson Rizhao and Tyson Nantong, both vertically integrated chicken production operations in China; Tyson Dalong, a joint venture chicken further processing facility in China in which Tyson Foods holds majority interest; Godrej Tyson Foods, a joint venture chicken processing business in India in which Tyson Foods holds majority interest; and Tyson Mexico Trading Company, which sells chicken products primarily though co-packer arrangements. Tyson Foods produced 10 mmt of animal feed at 32 feed mills in 2017.
Smithfield Foods is an international pork integrator and, since 2013, a wholly owned subsidiary of Hong Kong-based WH Group. The company operates 11 feed mills in the U.S. and two feed mills in Poland through pork subsidiary Animex. It produced 4.8 mmt of animal feed in 2017.
Industrias Bachoco is a vertically integrated food producer and among Mexico's largest poultry producers. Its main business lines are chicken, table eggs, balanced feed, swine, and others, including further process products of turkey and beef. Geographically, the domestic market dominates sales, with the remaining 26 percent attributed to the U.S. Industrias Bachoco consists of four main subsidiaries, each of which controls holdings of its own: Bachoco, S.A. e C.V. is involved in breeding, processing and marketing of chicken and eggs. Bachoco USA, through ownership of OK Industries, constitutes the parent company's operations in the United States — primarily production of chicken products and hatching eggs mostly for domestic sales. Campi Alimentos is engaged in producing and marketing balanced animal feed, mainly for selling to third parties. Bachoco Comercial and Induba Pavos share in the distribution of chicken, turkey and beef value-added products. Through Pecuarius Laboratorios, PEC LAB produces and distributes animal pharmaceuticals. And still more subsidiaries provide administrative and operational services. Industrias Bachoco produced 4.3 mmt of animal feed at 22 feed mills in 2017.
ADM Alliance Nutrition, a division of Archer Daniels Midland Co., is a leading producer of livestock feeds and supplements for chickens, horses, pets, rabbits and specialty breeds. Products include feed products, supplements, premixes, custom ingredient blends and feed ingredients. ADM Alliance Nutrition produced 3 mmt of animal feed at its 280 feed mills in 2017.
Perdue Farms is the parent company that operates poultry integrator Perdue Foods and the agricultural products and services company Perdue AgriBusiness. The latter sources merchandise and processes agricultural commodities, including feed for the dairy, swine, poultry and other industries. Perdue Foods is one of the largest poultry producers in the U.S., producing 12 million broilers per week. It operates 12 feed mills, as well as associated businesses in feed commodity trading and processing. Perdue Farms produced 2.5 mmt of animal feed at 11 feed mills in 2017.
J.D. Heiskell & Company is a grain and commodity trading business. It operates livestock feed manufacturing and trans-loading facilities domestically, and exports grains and commodities to Mexico, the Pacific Rim and the Far East. The company produced 2.2 mmt of animal feed at 11 feed mills in 2017.
Kent Nutrition Group services the American Midwest and Eastern seaboard with the Kent Feeds and Blue Seal brands of animal nutrition products, respectively. KNG is a division of Kent Corp., which also owns Grain Processing Corporation, Kent Pet Group and Kent Precision Foods Group. KNG produced 2 mmt of animal feed at 13 feed mills in 2017.