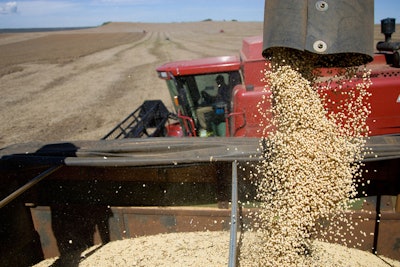 Editor's note: This is the second in a series on tariffs and the trade dispute between U.S. and China that began in early 2018. Part I: US-China trade war: How did it all start?
American soybean farmers have taken a big hit as trade tensions between the U.S. and China have heated up throughout 2018. Soybean prices have fallen and the U.S.'s biggest customer has stopped buying its soybeans.
In 2017, the United States produced 119.5 million metric tons (mmt) of soybeans, the most on record, according to SoyStats. It exported 56.2 mmt, with China buying 37.5 mmt – nearly $12.4 million in whole soybeans and $24 million in soybean oil.
According to the U.S. Department of Agriculture (USDA) National Agriculture Statistics Service (NASS), the value of soybeans grown in 2017 was $41 billion, second only to corn at $48.5 billion.
Since trade tensions between the U.S. and China began, soybean prices have been falling – from a 2018 high of $10.77 per bushel to a low of $8.14 per bushel.
"Due to the tariffs, farmers would receive less for the soybeans they are able to trade with China and, because of that, it is not profitable to be a soybean farmer," economist Andrew Kidd told Watchdog.org.
According to Forbes, "For every $1 lower in average price per bushel, U.S. soybean farmers will see their revenue decrease by over $4 billion or about 10 percent of total revenue. Since costs don't decrease, or at least very much, as revenue declines this lost revenue essentially drops to the bottom line."
U.S. soybean export woes
According to Bloomberg, soybeans make up 60 percent of the $20 billion of agricultural products that the U.S. exports to China.
Reuters reported in mid-October that China's imports of soybeans were set to drop by one-quarter in the final three months of 2018. Data from Tariffs Hurt the Heartland released near the end of October showed a 34 percent year-to-date drop in soybean exports to China compared with last year. For the most recent monthly data in August 2018, soybeans saw an even more staggering 95 percent drop as compared to August 2017.
In May, Bunge Ltd.'s CEO said China had stopped buying U.S. soybeans. At the time, Soren Schroder told Bloomberg in a report that China is buying soybeans from Brazil and Canada, is "very deliberately not buying anything from the U.S."
In late October, at least three ships carrying U.S. soybeans to China were rerouted before they reached their original destination. The reroutes may suggest that the original buyer of the cargoes have sold the product to other markets, however some trade analysts suggest they are being shipped to China through regional intermediaries to avoid the imposition of the additional tariff.
In October, China's feed industry association said it would lower crude protein and soybean meal content in pig and chicken feeds to "reduce consumption of raw materials for feed, and reduce environmental pollution from animal farming."
China turning to Brazil, Argentina for soy supply
The U.S. is the largest exporter of soybeans to China, followed by Brazil and Argentina. But Brazil is in a good position to make up ground on the U.S. now that China has stopped buying soybeans from the U.S. and has increasingly turned to Brazil for its supply. Brazil's increase in soy production sees it rivaling the U.S. for the world's top soy producer.
As a result of shifting demand, Brazil reportedly is planting more acres with soybeans and fewer acres with sugar cane. One report said Brazil's soybean acreage has increased by 2 million hectares in two years. China paid $20.3 billion last year for 53.8 million tons of Brazil's soybeans, up from 22.8 tons in 2012.
In August, top agriculture ministry official in Argentina said the company plans to export substantial amounts of soymeal to China after the next harvest in May. If China goes through with its soymeal deal with Argentina, the country will have limited supplies available due to drought. However, it is expected that farmers will have to increase production in the next planting season to meet the demands of China.