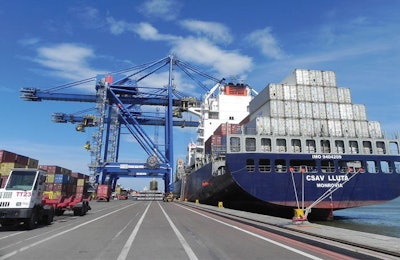 A ship carrying U.S. soybeans to China changed its destination en route, according to a Reuters report.
The ship, The Star Laura, was carrying 36,000 tons of U.S. soybeans with the original destination of the Chinese port of Qingdao, but ultimately ended its journey at Yeosu, South Korea.
Reuters also reported that at least two other vessels carrying U.S. soybeans to China have changed course in the past month. The Audacity changed its destination from Qingdao to Phu My, Vietnam, on October 28, and the Golden Empress, changed its destination from Qingdao to Singapore on October 23.
The reroutes may suggest that the original buyer of the cargoes have sold the product to other markets, however some trade analysts suggest they are being shipped to China through regional intermediaries to avoid the imposition of the additional tariff.
Two other U.S. ships carrying soybeans are reported to have arrived at Chinese ports in recent weeks but have not unloaded their cargo.
Trade tensions between China and the U.S. have resulted in China imposing 25 percent tariffs on many U.S. agricultural commodities, including soybeans, and China's purchases of U.S. soybeans is down drastically since the imposition of new tariffs.
In August, one of the first U.S. soybean-carrying ships to arrive in China since the escalation of trade tensions between the two countries unloaded 70,000 tons of the oilseed.