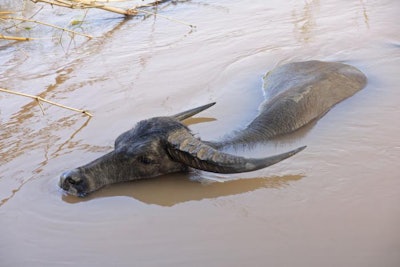 Indian animal feed producer Kerala Feeds recently organized the Snehasparsham project, which provided 100 bags of cattle feed to flood-affected dairy farmers.
Ernakulam District Collector K Mohammed Y Safirulla inaugurated the project to help the flood-hit dairy farmers, according to the Press Trust of India. Ernakulam is a district of Kerala, India situated in the central part of that state.
The August deluge and landslides had left Ernakulam district with a property loss of Rs 8,000 crore — more than US$1 billion — Safirulla said when referencing the findings of a UN study.
The Guardian reported in August that the state was facing the worst flooding it had seen in more than 100 years. Thousands were trapped by devastating floods that killed more than 300 people in the Indian state of Kerala. Flooding triggered landslides, sending torrents sweeping through villages.
Roads were damaged, mobile phone networks went down, an international airport was closed and more than 220,000 people were left homeless after unusually heavy rain over nine days.
Initial focus by many was rescue operations, but now the state is working to rebuild through the helpful efforts of companies like Kerala Feeds.
According to the Press Trust report, Kerala Feeds has distributed cattle feed worth more than US$30,000 for dairy farmers in Ernakulam district since the flood.
Safirulla explained that the rehabilitation was a long-term mission and that Kerala Feeds can help authorities provide dairy farmers updated technology and new guidelines.
The state bank of India is also helping flood-affected farmers take out loans in order to rebuild their operations.