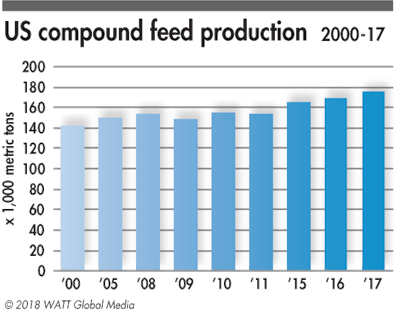 World compound animal and aquaculture feed production increased nearly two percent in 2017, according to Feed Strategy magazine's World Feed Panorama 2018.
North America, represented primarily by the U.S. and Canada, increased its global share of the market by 1 percent, up to 22 percent, surpassing Europe and Russia.
U.S. compound feed production rose 3.5 percent from 2016 on the strength of a 5 percent increase in beef production, thus maintaining its position as the world's largest feed producer. Pork production also rose 3.5 percent, while chicken meat production increased close to 2 percent.
Canadian compound feed production gained 3 percent from 2016. Despite its PED virus issues in Manitoba, the overall losses to the pork sector were not major. It was on the poultry side that Canada saw the biggest growth — almost 4.5 percent. According to the USDA, 2001 was the last time the Canadian poultry sector grew at a rate above 4 percent.
Latin America maintained its 16 percent share of the world's compound feed production market in 2017.
Brazil, the world's third largest feed producer, saw a 2 percent rise compared with 2016, as the world's largest exporter of chicken meat continued its growth.
In 2017, Mexico grew 2.5 percent and has dropped down to the fifth spot in world compound feed production. In 2017, chicken production increased by 3 percent, while swine production rose more than 1.5 percent.
Compared with 2016, in 2017 Colombia's feed production rose almost 6.5 percent in poultry, more than 1.5 percent in swine and an astounding 20 percent in aquaculture.