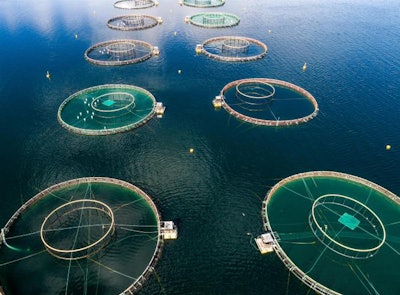 Indonesia's Maritime Affairs and Fisheries Ministry has said aquaculture is expected to supply 8.76 million tons of fish to the domestic market in 2019, according to The Jakarta Post.
Slamet Soebjakto, the ministry's aquaculture director, said in a report that fish consumption per capita in Indonesia was projected to reach 50 kilograms annually in 2019. This means fish consumption is expected to reach 14.6 million metric tons per year.
Soebjakto also said global fish production is expected to increase, which reflects statistics from the Food and Agriculture Organization (FAO) of the United Nations.
With the expected growth globally, Soebjako said "it is time for us to apply technology-based aquaculture, which is based on climate change mitigation, so that we can boost our aquaculture production, while we can control its impact on climate change."
Aquaculture globally
FAO estimates that, by 2030, total aquaculture production will increase by 18 percent to reach 201 million metric tons (mmt).
Of all aquafeed production, 31 percent is used for carp production; the other largest species groups are tilapia (17 percent), shrimp (15 percent), catfish (11 percent) and salmon (7 percent), according to the FAO's estimates.
China is the global leader in aquaculture production.
The American Soybean Association's (ASA) World Initiative For Soy in Human Health (WISHH) Program is building on its track record in aquaculture development by launching the Commercialization of Aquaculture for Sustainable Trade (CAST) – Cambodia. CAST will connect trade and development by accelerating production of high-demand fish species for the Cambodian market and developing an aquaculture industry that recognizes the value of soy protein in feed.
As a result of an extensive competitive proposal process, the U.S. Department of Agriculture (USDA) has selected WISHH to implement CAST under the U.S. Department of Agriculture (USDA) Food for Progress Program.
"Fish is a key staple in the Cambodian diet and constitutes the most important and largest source of protein, with per capita fish and shellfish consumption estimated between 36 and 63 kg/year. Average per capita consumption of freshwater fish in Cambodia is the highest in the world at 19.4 kg/year, but much of it is imported from neighboring countries," said a source affiliated with WISHH.