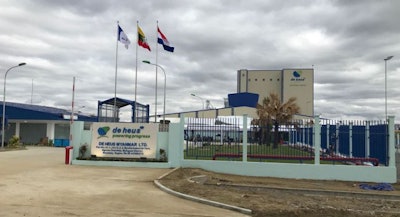 De Heus Myanmar has opened its second production site in Myanmar. This modern production facility will enable De Heus to strengthen its market position and help professionalize agriculture in the region.
Located on 26,000 square meters near Mandalay, the factory has an annual production capacity of 280,000 metric tons and is regarded as the most sustainable feed production site in Myanmar.
After opening its animal feed mill near Yangon in the Lower Myanmar region in October 2016, De Heus now has a second production site near Mandalay, in the Upper Myanmar region. With production capacity at the Yangon site having already reached its limit and monthly sales figures still rising fast, a second production site was required.
"Since our arrival in Myanmar, the livestock sector has gradually developed," said Johan van den Ban, managing director of De Heus Myanmar. "De Heus Myanmar has now become the leading supplier of animal nutrition solutions to independent farmers nationwide. For several years, De Heus Myanmar has had a sales warehouse in Mandalay to flexibly supply customers in the region. Based on growing demand, the identified high potential and our company's commitment to our local customers, we decided to invest in this new factory quite soon after opening our first factory back in October 2016. We hope that this new production facility will enable us to support the livestock farmers even better."
During the opening ceremony, Van den Ban said: "Due to our commitment to high product quality and supporting local farmers with global knowledge, we have seen a tremendous growth in the use of our products in Myanmar. We want to bring new knowledge to Myanmar in order to further increase the production of animal protein in this beautiful country and contribute to the professionalization of the livestock sector.
"This production facility is the most modern compound feed plant in Myanmar. The new equipment from top European feed milling suppliers includes a hyper modern packing robot and extensive bulk storage solutions. To monitor the quality of incoming raw materials and outgoing finished products, a state-of-the-art laboratory will make a big contribution to future farming demands. I am particularly proud that by investing in a 516 kW rooftop-based solar energy system, which is able to produce 663 MWh of renewable energy per year, we will save 1.5 MT of CO2 emission. Thereby, we have established the most sustainable feed mill in Myanmar. The steam consumption of this factory is generated by renewable fuel sources as well. We hope to encourage other investors to continue investing in renewable energy as well."