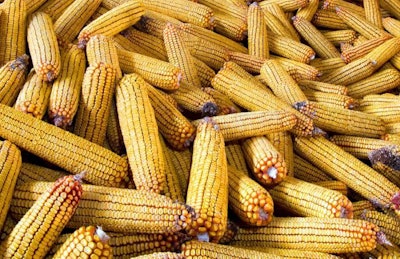 Members of the European Parliament (MEPs) this week voted overwhelmingly to halt the authorization of imports of a new corn that has been genetically modified (GM) to make it herbicide- and pest-resistant.
This comes despite the fact that Europe's food safety agency, EFSA, last year offered a favorable view on it, and the European Commission wanted to go ahead with the import of food and feed containing it.
In a non-binding resolution, MEPs have voted 426-230 with 38 abstentions to oppose the authorization of GM corn Bt11 × 59122 × MIR604 × 1507 × GA21, and all 20 of its combinations.
Supporting their decision, MEPs cited a lack of data on the combinations of the corn variety, and repeated their earlier call for the European Union's GMO authorization procedure to be reformed. They said the Commission is authorizing GMOs, despite the opposition of many of the member states.
Prior to the vote, four non-government organizations – namely IFOAM EU, Friends of the Earth Europe, Greenpeace and Slow Food – wrote to the MEPs, urging them to oppose the authorization of the GM corn varieties.
In October 2015, the European Parliament rejected a law that would have allowed individual member states to restrict or prohibit the sale and use of EU-approved foods or feeds. At the time, MEPs said that law would have been unworkable, and would have required the reinstatement of border checks between countries with different GM policies.
In its latest annual report, the European Feed Manufacturers' Federation (FEFAC) criticized the European Commission for prolonged delays in reaching decisions on GMO food and feed import approvals.