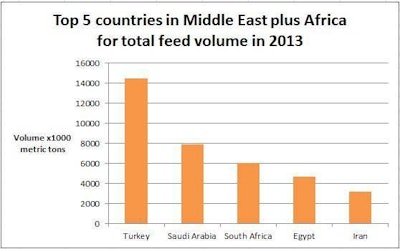 Poultry prospects dictate the feed market trend in the Middle East and Africa, even more when this zone is extended to include countries at the eastern end of the Mediterranean Sea. A reasonable performance by the poultry sector in 2013 therefore meant better regional and national feed volumes.
Poultry strong in Middle East
For example, strong exports in 2013 allowed Turkey to increase its production of poultry meat and eggs so that its need for poultry feeds also expanded. This was reckoned to be the largest single factor in a 6 percent expansion of Turkish compound feed production in 2013.
Israel calculates that 64 percent of all its commercially manufactured feeds are for poultry. In the Southern cone of Africa in 2013, the proportion was put at 70 percent.
African compound feed usage variable
But the demand is not always for commercial compounds. In Algeria, reports say that 80 percent of all the maize imported into the country for feed use goes into farm-made feeds. Against this is the suggestion of an emerging trend in which more diets in the future will be purchased rather than mixed on the farm.
Ingredient shortages and costs continue to limit feed production in several African nations. Nevertheless, bright prospects are described for increased poultry feed output in East Africa, while Burundi and Rwanda have been identified as potential future hotspots in the region for aquafeed development alongside the more-established growth areas of Egypt, Nigeria and Uganda.