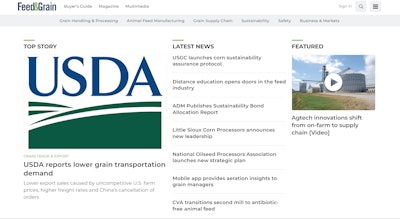 WATT Global Media announces the launch of its new Feed Strategy and Feed & Grain websites. The enhanced website designs provide users with a fresh look and feel, optimized for faster load times and improved navigation.
One of the key new features is the password-less login system. When registered users first log in, they will be asked to verify their identity by providing their email address and clicking on a verification link that will be emailed to them. This streamlined process not only enhances security but also provides a more user-friendly experience.
"These changes will further attract new visitors to the site and encourage frequent users to stay longer and engage more deeply with the brands' unique content," said Nancy Batio, director of marketing, WATT Global Media. "Increased user engagement and time on site will result in greater ROI for the industry suppliers, whose advertisements provide solutions to the marketplace."
As always, expect to find:
Feed & Grain's editors produce original articles, facility profiles, insightful blogs and news reporting that covers what U.S. grain handling and feed manufacturing sectors need to know to stay informed on innovative equipment solutions, best practices, and how to maintain a safe supply chain.
Feed Strategy's editors create original articles, blogs, exclusive data products and news coverage, and provide timely analysis and guidance on issues relevant to the global animal feed market, such as animal nutrition, sustainability, biosecurity, production efficiency, and government regulations.
In addition, the sites are enhanced to serve relevant related content to the user based on their job title and interests.
Explore the new FeedStrategy.com and FeedandGrain.com sites, and experience the improved design and features for yourself. Additional functionality and enhancements will be released later this year.
"Both brands look forward to continuing to serve their readers and advertisers with an exceptional content experience," Batio said.