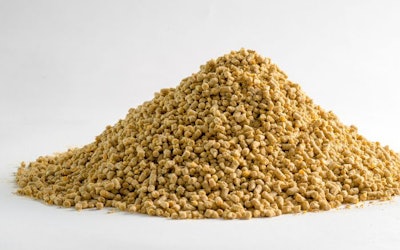 Philippines-based Aboitiz Group reports its new feed mills in China and Vietnam will be completed within the next 12 months.
During the coming year, two new feed mills will be completed in China and Vietnam by Pilmico and Gold Coin Group.
Together, the two entities form the integrated agrifood subsidiary of the Philippines-based Aboitiz Group, reports Philippines Daily Inquirer.
Total investment is PHP2.8 billion (US$50.3 million). By the end of this year, the first facility is scheduled for completion in Yunnan, China, at a cost of US$24 million. Meanwhile, US$27 million is the sum invested in the feed mill in Long An in Vietnam. This is expected to be finished in April 2024.
Progress in 'Great Transformation'
According to Aboitiz Group at an event this week, initial capacities of the plants are 150,000 metric tons (mt), and 200,000 mt, respectively.
The two feed mills represent the significant developments taking place in the group under the banner of "The Great Transformation." For Aboitiz, this is its growth strategy, aiming to make it the Philippines' first "techglomerate" through a combination of technology and a strong entrepreneurial values.
In November 2022 came the first announcement about the new feed mills, and how they fit with the group's new strategy.
At a recent event, Aboitiz Group President and CEO Sabin Aboitiz provided an update on the progress of the transformation.
"Empowered by the fusion of technology and innovative thinking, the Aboitiz Group is going full speed ahead with our Great Transformation, charting an audacious course towards boundless growth," he said.
As well as the Pilmico and Gold Coin agribusiness, Aboitiz Group also has interests in data innovation, power, InfraCapital, construction and land, as well as Union Bank.
Among the other achievements made by Pilmico over the past year are the launch of Maxime Elite, a new premium cat food.
Under the company's retail meat brand, The Good Meat, three new stores have opened over the past year. Located in Metro Manila and Batangas, they bring the brand's outlets in the Philippines to five.
More on Pilmico, Gold Coin
Covering Aboitiz Group's agribusiness, Pilmico and Gold Coin Group have four divisions, covering flour, feeds, farms and commodities. According to Philippines Daily Inquirer, these operate from 29 facilities in nine countries, including the Philippines.
With a capacity of 4.2 million metric tons a year, the group is now among the largest feed companies in Southeast Asia.
In 2014, Aboitiz Group began its foray into international business when it purchased a 70% equity interest in one of Vietnam's largest aquafeed companies, Pilmico Vietnam Co. Ltd.
Four years later, Pilmico purchased a controlling stake in Gold Coin. At the time, Gold Coin was the largest privately owned agribusiness company in Asia.