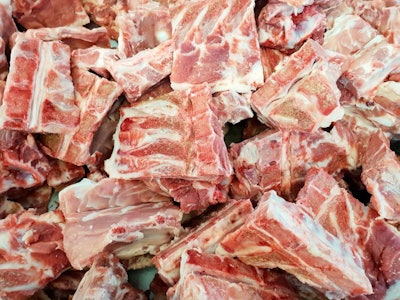 After a challenging year for the pig meat sector across the United Kingdom, Pilgrim's UK reports its business recovery plan is showing signs of success.
Pilgrim's UK has recently reported making good progress on a business recovery plan put in place after a reported GBP16 million (US$18.3 million) operating loss for the 12 months to December 26, 2021.
At the start of this year, new company president Ivan Siqueira introduced an evolved business structure. With its operation split into three divisions — agriculture, fresh and added-value — the reorganization aimed to deliver high levels of customer service, operational excellence and quality products.
The firm describes the market conditions in 2021 and 2022 as "the most difficult ever faced by the British pig industry." As costs rose throughout the supply chain, pig meat prices fell in the U.K., Europe, and for exports. Nevertheless, Pilgrim's UK has recently confirmed its commitment to British producers. Working with its retail partners, the company says it ensured a fair price for its producers, and resulted in pledges of more than GBP35 million in support for farmers.
Improving business prospects
Despite the business challenges of the recent past, Siqueira is positive about the prospects for the business in the third quarter of this year.
"To enable is to deliver. We have evolved, diversified, and invested in becoming the best and most sustainable food business in the U.K., and will continue to identify ways to operate even more efficiently and effectively," he said.
Among the most recent examples of diversification by Pilgrim's UK is the recent acquisition of Randall Parker Foods. Now under the banner of Pilgrim's UK Lamb, the firm's lamb operations are now part of a single supply chain.
Improving sustainability in the business is another key business strategy for the company. As well as innovations and efficiencies, Pilgrim's UK continues to seek to develop a circular waste economy, and to reduce waste and water usage.
More on Pilgrim's UK
According to the company's website, Pilgrim's UK is Britain's largest producer of high-welfare pigs and sustainably produced pork. The firm produces 25% of the pig meat consumed in the U.K.
Its own farming operation complies with the Higher Welfare standards of the Royal Society for the Prevention of Cruelty to Animals (RSPCA). Furthermore, it shares its high standards on animal welfare, efficiency, and quality with more than 1,000 of the nation's farmers through its fully integrated supply chain.
With a workforce of 5,500, Pilgrim's UK operates 14 sites across the country. As well as three slaughterhouses, it has eight processing facilities producing products including bacon and sliced cooked meats. Four of its sites serve supermarket chain Waitrose with high-quality pork and lamb.
A new company — Pilgrim's Shared Services Ltd. — was formed this year to provide support to Pilgrim's Pride's European companies, including Pilgrim's UK.
In November 2021, the company announced further investment at its Bromborough pork processing plant in Merseyside in northwest England.
As part of the Pilgrim's Pride Corp., Pilgrim's UK is part of the second largest food company in the world.