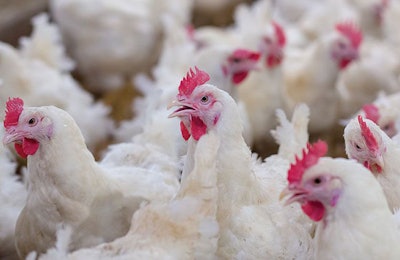 The University of Arkansas System Division of Agriculture and Adisseo, a France-based animal nutrition company, have entered into an agreement to expand collaborative research in poultry health and nutrition that began last fall.
Mark Cochran, vice president-agriculture for the University of Arkansas System Division of Agriculture, and Stefan Jakob, director of research and development in nutrition and animal health at Adisseo France S.A.S., recently signed a memorandum of understanding to establish an endowed professorship in the division's department of poultry science.
A second agreement was signed recently in the Don Tyson Center for Agricultural Sciences in Fayetteville. Jakob; Jean-François Rous, executive vice president of innovation for Adisseo; and Jean-François Meullenet, associate vice president for agriculture-research and director of the Arkansas Agricultural Experiment Station, signed the February agreement.
"The close collaboration we began with Adisseo last fall established a partnership that promises to be highly beneficial for independent research and its translation into industry application," Cochran said.
"This new agreement expands our research collaboration, builds upon the division's and Adisseo's leadership in the discipline, and opens doors for investigation into new areas that will benefit animal health and well-being, and the poultry industry as a whole," Cochran said.
Meullenet said the collaboration joins the assets of two research powerhouses in animal health and nutrition.
"The sharing of expertise and resources benefits both parties," Meullenet said. "The industry benefits when product development and testing is built upon a foundation of unbiased, basic research."
Rous said that the collaboration with the University of Arkansas System Division of Agriculture is a cornerstone in Adisseo's strategy to team up with world class universities, bringing together groundbreaking research and its industry application.
"We are very proud that we could establish such a profound and yet results driven partnership," Jakob said.
The goal of the first agreement was to provide leadership and collaboration in research to promote sustainable poultry nutrition strategies, Jakob said.
Initially, the Division of Agriculture provided independent testing of Adisseo feed additive products, said Nathan McKinney, assistant director of the Arkansas Agricultural Experiment Station.
"This second agreement initiates a broad spectrum of poultry nutrition research that will reach from basic science in the laboratory to on-farm applications," McKinney said.
The new agreement establishes a research steering committee that will allow the division and Adisseo to jointly decide on direction of research, research methods and budgets, and to select principle investigators to conduct the research, McKinney said.
"The fact that we decide commonly expresses very well the essence of this partnership, based on mutual trust and interest in groundbreaking research," Jakob said.