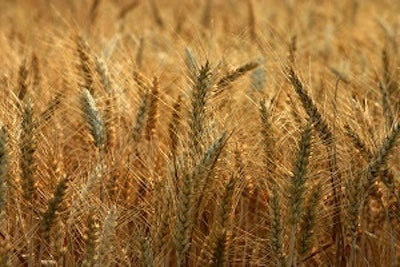 From WATTAgNet:
The National Science Foundation's Plant Genome Program has awarded researchers at Kansas State University a three-year, $1.6 million grant to develop a better understanding of the wheat genome.
The project, "GPF-PG: Genome Structure and Diversity of Wheat and Its Wild Relatives," will focus on ways to improve the current wheat genome assembly by using genetic information.
Kansas Wheat supports the project, which also will partner with the Kansas Foundation for Ag in the Classroom.
In July, NRGene said it had mapped the complete Emmer wheat genome in one month, significantly accelerating global research into crop improvement.
"The repercussions of the mapping will be felt around the world," said Assaf Distelfeld, PhD, of Tel Aviv University (TAU), a renowned wheat geneticist and the primary researcher on the project. "Scientists will now be able to identify key genes in the Emmer wheat and introduce them into commercial wheat via classical breeding, creating hardier varieties across environmental conditions, ultimately increasing the global food supply."
The combination of Distelfeld's work and NRGene's DeNovoMAGICTM assembler has created long genome sequences (N90>1 million bp) covering 90 percent of the genome and anchored to an ultra-dense genetic map of Emmer wheat, producing a genome map equivalent of four human genomes or 30 rice genomes. DeNovoMAGICTM delivers accurate, high quality de novo assembly of reference genomes for any crop or organism, quickly and cost effectively.
Kansas State University's leadership in wheat research recognized with $1.6 million grant
Kansas State University wheat researchers are leading efforts to develop a better understanding of the wheat genome.The National Science Foundation's Plant Genome Program awarded the researchers a three-year, $1.6 million grant to fund projects and collaborations to help train new generations to …