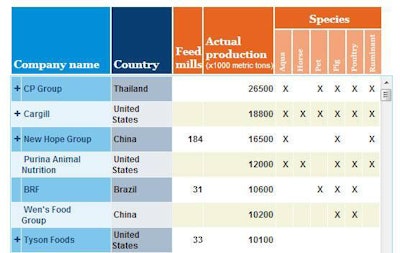 WATT Global Media has launched its database of the World's Top Feed Companies with company and production information on more than 200 of the leading compound feed producers from around the world. The database is available online at www.wattagnet.com/topcompanyfeed.html.
Online information includes a summary on the company, with information on number of feed mills, production tonnage, production capacity and location of the the company's headquarters. If you are not already a subscriber to Feed International or registered user of WATTAgNet.com, registration will be required to access this information.
The online database gives you a table listing the top 100 compound feed producers. The chart contains many multinational companies with multiple subsidiaries. A "+" in the left-hand column on the online listing indicates it's a company with multiple subsidiaries. Clicking on the "+" will give you a list of that company's subsidiaries, with direct links to each company's full information.
You can also search the online database by company, region or country.
This data was collected by the editorial staffs of Feed Management, Feed International and WATT research and was published in the September/October 2013 issue of Feed International. It will be updated and improved upon continuously. It complements the Top Poultry Company database introduced by WATT three years ago.