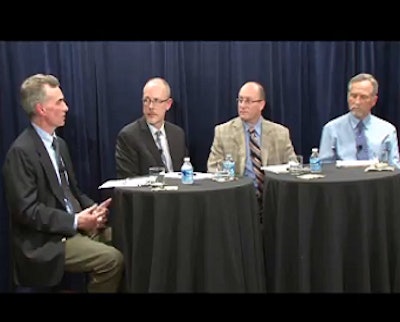 A panel of veterinarians stressed that efforts must be made to educate the public that antibiotics are not just placed into feed to help prevent an outbreak of any random disease. Instead, a specific risk must be identified.
William Flynn, deputy director for science policy at the Food and Drug Administration's Center for Veterinary Medicine, was one of four veterinarians who took part in a panel discussion "The role of the Veterinary Feed Directive – The Future of antibiotics in poultry production," hosted by WattAgNet.com and sponsored by Zoetis. Their discussion can be viewed on an online video .
According to Flynn: "There may be some misperceptions that when we talk about disease prevention that it's in a generic sense, that antibiotics are being put into feed, for example, to sort of prevent whatever disease comes along. That's not at all what we're talking about here, and we wouldn't consider this to be a judicious use of that drug.
"You are specifically identifying a disease that you believe a specific group of animals is at risk of being exposed to and having an outbreak of a disease, and based on that risk, made the decision that its warranted to administer the drug or antibiotic in a preventative modality," Flynn said.
Flynn was joined in the discussion by G. Donald Ritter, Mountaire Farms director of health services; Randy Singer, associate professor, University of Minnesota Department of Veterinary and Biomedical Sciences; and Stephen Sutherland, Zoetis senior director of regulatory affairs.