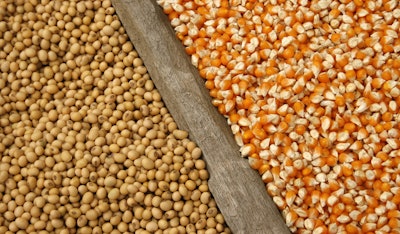 studio2013 | Bigstock.com
After several years of turbulence, prices for grains, oilseeds and even organic commodities all show signs of decline amid growing U.S. supplies.
Organic prices have seen the steepest declines — mostly because they had the most room to fall, according to Ryan Koory, vice president of economics for Mercaris, an Argus Media company that tracks organic and non-GMO commodity trading. Organic corn was running US$8.50 to US$9 per bushel in mid-November, compared with US$12 per bushel last year, and organic soybeans have fallen by more than half, Koory said.
Conventional corn and soybean prices have also dropped substantially below last year's highs, and for fundamentally similar reasons that organic prices have sold: Commodities across the board appear to be entering a period of oversupply.
According to the U.S. Department of Agriculture's (USDA) November World Agricultural Supply and Demand Estimates, corn and soybean supplies are increasing more rapidly than use. November's yield estimates came in higher than expected, adding 245 million bushels of soybeans and 45 million bushels of corn to the stocks expected to remain unsold when the market year comes to a close.
The surpluses of organic commodities are more are result of increased production than of yields, Koory said. The high prices of the past few years — triggered, for organic commodities, when the USDA ended an agreement to recognize India's organic farming standards — prompted producers to increase the acreage dedicated to organic corn and soybeans. Now that the growth in supply has outstripped demand, those acres will likely return to pasture or fallowing, Koory said.
If prices continue to fall for the next several years, there is some chance that organic producers will return to conventional crops, he said. But it remains to be seen whether that will happen; organic poultry production has slowed considerably in recent months in response to high feed prices. But with prices now set to fall, Koory said he has heard from organic producers that they intended to expand their poultry production in response to strong consumer demand.
Demand from consumers, Koory continued, will likely determine just how much expansion takes place in the coming year. But while analysts were talking this time last year about the potential for a serious recession, macroeconomic trends suggest the risk of recession has also diminished.