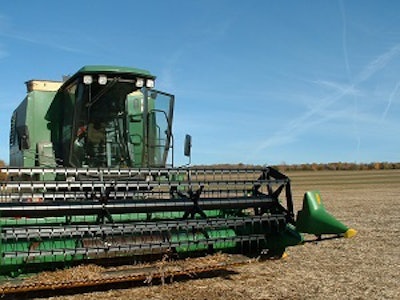 From WATTAgNet:The U.S. Department of Agriculture's report from October 27 shows that 70 percent of soybeans and 46 percent of corn is harvested. Seventy percent of corn is in good to excellent condition. Eighty-four percent of winter wheat is planted and 67 percent has emerged. The first rating of winter wheat this season shows that 59 percent of the crop is in good to excellent condition. Farmers in Corn Belt states made double-digit progress in their harvests in the past week. Soybean harvest in the Midwest was the most brisk, with Iowa farmers harvesting 20 percent of the state's soybeans in the past week and Missouri farmers harvesting 21 percent. "The agreeable weather last week allowed many farmers to make good harvest progress, but with 36 percent of corn and 81 percent of soybeans harvested we remain behind the 5-year average," Iowa ag secretary Bill Northey said October 27. "Wet fields and rain showers continue to slow progress in some areas and hopefully warm, dry weather will allow harvest to progress in a timely manner." Weather is expected to be mostly favorable in the Midwest for the rest of the harvest season, with occasional showers throughout the Midwest in the next 10 days.
USDA Crop Progress Report Oct. 27th, 2014
corn and soybean harvest paces both made good gains over the past week. As of Sunday, 70% of soybeans are harvested, compared to 53% a week ago and the five year average of 76%. 46% of corn is harvested, compared to 31% last week and 65% on average, with 96% mature, compared to 97% on average. 74% of corn is in good to excellent condition, unchanged on the week.
Harvest Advances, Wheat Off To Good Start in USDA Crop Progress Report
Growers made good progress last week thanks to mostly open conditions, according to the USDA crop progress and condition report released Monday. While that was 6% behind average, enough of the crop is in that USDA continued its weekly ratings. Growers also picked up the pace of corn harvest, with the nationwide percentage rising from 31% to 46%.