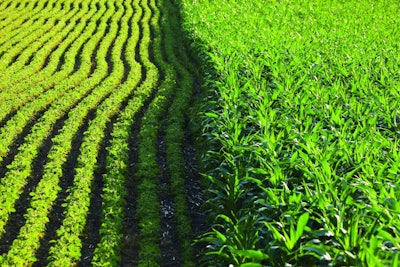 US farmers cut back corn, increase soybean crop acreage in response to rising fertilizer prices
Given the rising cost of fertilizer, analysts have anticipated for months that U.S. farmers may reduce the size of the corn crop this year. The major surprise as planting surveys came in this March, according to U.S. Department of Agriculture (USDA) chief economist Seth Meyer, was the extent to which they cut back.
Producers surveyed by the USDA's National Agricultural Statistics Service indicated they intend to plant a record 91 million acres of soybeans this spring, up 4% from last year. Corn acres are projected to fall 4% to 89.5 million acres, according to the prospective plantings report released on Thursday.
From the results of the survey, it seems as though the rising cost of inputs such as fertilizer have weighed heavily on U.S. farmers, Meyer told the U.S. Soybean Export Council during a recent question-and-answer session. High prices for corn and soybeans may have had some impact, he said, but evidently wasn't the deciding factor.
"Producers have a great perspective on this," he said. "If we looked purely at price, it might suggest what the trade thought about corn acreage. But the other side of the balance sheet on cost, I think, is what led us to their report today."
However, he noted that the prospective plantings report is based on surveyed intentions, not action on the ground. Crops have yet to be planted in much of the U.S., he said, and so there's still some time for producers to change their plants in response to ongoing market volatility.
Corn prices rose 23 cents to US$7.49 per bushel in response to the March 31 report, while soybean prices fell 46 cents to US$16.18.
Farmers who participated in the online question-and-answer session confirmed the report's findings that they planned to cut back on corn acreage.
"Our corn acres are going to be cut down quite a bit from last year," said David Nichols, a fourth-generation farmer and seed dealer in Tennessee. While he normally plants soybeans on 50% of his acreage, Nichols said he was cutting back to 30% this year on account of a "tremendous increase" in nitrogen prices.
However, other farmers who said they'd applied fertilizer to their fields in the fall, or who had manure from animal production they could use as fertilizer, said they would not change their planting rotations this year.
Because much of the U.S. falls into that latter category, Meyer said, the impact of rising fertilizer prices may not be fully felt until this fall. Producers in South America tend to get more of their fertilizer from Russia and Ukraine, he said, compared with U.S. producers, who rely more on Canada.