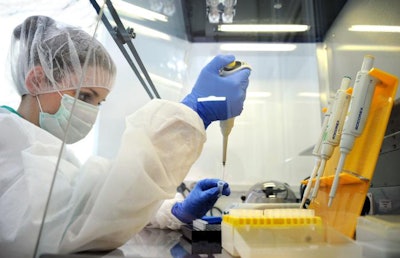 Researchers call for large-scale contingency plans to utilize available ag tech infrastructure in future emergencies
The agriculture technology (ag tech) sector is capable of responding to emergencies such as the novel coronavirus (COVID-19) pandemic, and its capacity to do so must be recognized and put to use, say three researchers in a recent article.
Ag tech researchers from the U.K. and Canada – Steven R. Webb, Richard M. Twyman and Maurice Moloney – wrote in the journal Nature Biotechnology that ag tech infrastructure should be used for pandemic preparedness. They argue that the industry is already capable of large-scale testing and screening, and biosecurity surveillance.
"Ag tech infrastructure for crop and animal breeding, crop disease management and seed testing provides not only the equivalent of peacetime infrastructure that can be redeployed to emergency biomedical use in a pandemic situation, but also the capacity to handle future outbreaks more effectively," the article said. "We should develop contingency protocols for such facilities allowing them to switch to pandemic response mode."
Easily adaptable technology
For more than a decade, the authors said, ag tech has been performing high-throughput data analysis and molecular testing for plant phenotyping, disease management and breeding.
"Ag tech infrastructure used to facilitate plant breeding and biosecurity surveillance could easily be adapted for medical screening," the article said.
As the article's authors point out, widespread disease affects plants and animals as well as humans, and the agriculture industry is well versed in biosecurity and disease monitoring.
"The use of ag tech as part of an integrated biosecurity program to monitor pests and diseases in the field provides a high degree of overlap in terms of equipment, reagents and expertise with the resources needed to manage human epidemics and pandemics," the article said. "For example, surveillance programs are in place and constantly active to monitor animal diseases such as African swine fever. This disease has broken out in China and devastated their domestic pork production industry, and entry into North America would have devastating consequences. The testing capacity built into these programs could be switched over to monitor human diseases in the event of an epidemic or pandemic outbreak."
Call for large-scale contingency plans
All of these capabilities of ag tech should be utilized to create a plan to respond to future disease outbreaks – in humans, animals or plants.
"We are therefore calling for a national or international effort to develop contingency plans for human testing based on available ag tech infrastructure. This would facilitate a much more rapid and coordinated response to testing than witnessed in response to COVID-19, particularly given that stay-at-home orders would otherwise require the laboratories to be shut down so their capacity would be largely wasted," the article said. "Such an effort would require a clear chain of command to determine how the surge capacity provided by ag tech would align with existing health care capacity and to coordinate their roles in the work flow to maximize the shared resources."
But, the authors are careful to point out that such as effort would require a lot of coordination and collaboration.
"Ideally, each ag tech institute would have a dedicated quality assurance/quality control (QA/QC) coordinator who would be responsible for International Organization for Standardization (ISO) certification, good laboratory practice (GLP) accreditation and the training of key personnel," they said. "This role could also double as a pandemic coordinator, whose job would be to oversee the switchover to pandemic preparedness in response to a disease outbreak affecting humans, other animals or plants as needs arise, to ensure personnel are trained in new processes and procedures, and to align with regulatory requirements."
Ag industry efforts to fight COVID-19
Throughout the pandemic, we've seen several companies in the agriculture industry step up to use their expertise to combat COVID-19.
View our continuing coverage of the novel coronavirus (COVID-19) pandemic.