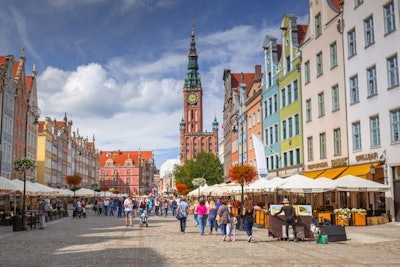 In 2017, when I participated at the European Symposium on Poultry Nutrition (ESPN) in Tarragona, Spain, I complained about several things, but this year, after having spent a great week at ESPN in Gdansk, Poland, I have nothing but praise to heap on the organizers.
First, the city itself, Gdansk, is a living museum of history going back centuries (reading Wikipedia pages for Hanseatic League and Free City of Danzig is a great way to spend an hour or so) and as recent as the world-changing Solidarity movement of Lech Walesa. It was a thrilling experience to visit such a place where World War II started, not to mention the spectacularly restored Old City.
Polish people proved great hosts and I wish I had more time to try the local food. I was too busy gulping down an ingenious creation, a marvel of innovation for carnivores: the Tomahawk steak, weighing in at 1,000 grams (35 ounces). It must have been the rib of some Godzilla, but it went down like freshly baked apple pie with vanilla ice cream from Curtis Orchard (fond memories and all that, but I digress). So, kudos for hospitality to the great people of Poland on all fronts.
And I will not forget the trip down the estuary of the Vistula River all the way to the Baltic Sea, sailing like Jack Sparrow on the fake (but very nicely done) Black Pearl ship (courtesy of my great Polish friend Jedrzej). I do not recall the trip back because Polish beer Tyskie is now my favorite, and nobody was keeping tabs.
As for the ESPN conference center, it was a well-organized three-hall building where everyone got fair treatment, including the private sector that had a sizable and well-presented exhibition hall. I don't know about the conference food, as I was digesting the T-Rex steak of each previous night's dinner, but coffee, orange juice and pastries were freely available all possible hours. As far as I know, everything went super smoothly from registration to airport duty-free credit card charges for Soplica liquor (that's another story.)
Next week, we will get to more serious matters, discussing the program, where I have some well-intended criticism – just to keep things interesting.