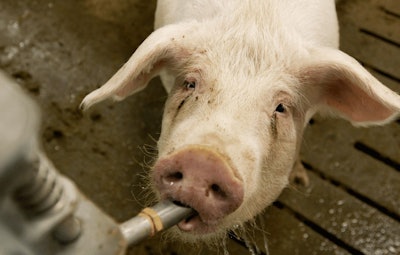 Maple Leaf Foods
It isn't exactly easy to pinpoint just why sow mortality and reproductive mortality rates are higher in the U.S. than in other developed countries, but Mike Tokach, Kansas State University distinguished professor and extension specialist shared some of the hypotheses that exist on the matter.
Tokach was part of the panel discussion, "Advancing Profits and Sustainability by Improving Pig Survivability," held June 8 at World Pork Expo in Des Moines, Iowa.
Tokach was the panelist to address a question from an expo attendee about those higher mortality rates, and he said, "that's a great question, one that a lot of us keep asking." While it doesn't appear those mortality rates can be traced to one specific thing, he shared some ideas. He stressed, however, these were only hypotheses.
Truck washing
Tokach said one difference in industry practices in Europe and in the U.S. is that in Europe, all trucks are washed as they leave the packing plant. That is not a common practice in the U.S., Tokach said, and as a result, more disease could be spread.
Differences in diseases
Mortality rates in the U.S. could also be higher than certain countries in South America simply because those countries don't have some of the disease problems that are present in the U.S., Tokach said.
Differences in feed
In Europe, pig producers tend to use feed with higher fiber levels than what is the average in the U.S., which could play a role in animal health, "but we need the data to show that's an issue," Tokach said.