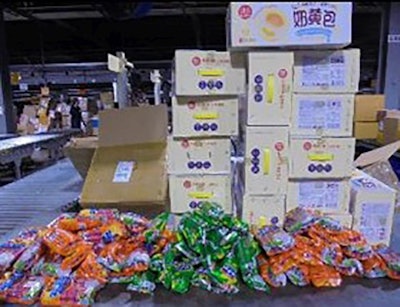 Courtesy U.S. Customs and Border Protection
U.S. Customs and Border Protection (CBP) Agriculture Specialists at the Louisville Port of Entry intercepted several shipments containing pork and poultry products not declared in boxes.
CBO believes the products were undeclared as the shippers and receivers were hoping to avoid detection.
From August 20 to August 28, Agriculture Specialists stopped 13 shipments from the same corporation in Hong Kong, heading to the same company in Bellerose, New York. Each shipment contained pork items, some contained pork and poultry items, and one contained pork and other prohibited food. In total 1,104 pounds of pork, 298 pounds of poultry, and 88 pounds of prohibited foods were seized. The receiving corporation was notified about their prohibited shipments and the food was destroyed.
Pork products from Hong Kong are prohibited due to outbreaks of African swine fever (ASF), classical swine fever (CSF), and swine vesicular disease in the region. Because of the presence of these three swine diseases, all pork products from Hong Kong are not permitted without the applicable U.S. Department of Agriculture Veterinary Services (USDA VS) permits.
Additionally, the avian products from Hong Kong are also prohibited because of virulent Newcastle disease (vND) and highly pathogenic avian influenza (HPAI) concerns.
According to reports from the World Organisation for Animal Health (WOAH) the most recent case of HPAI in Hong Kong was confirmed in December 2022, while the most recent case of ASF there was confirmed in February 2023.