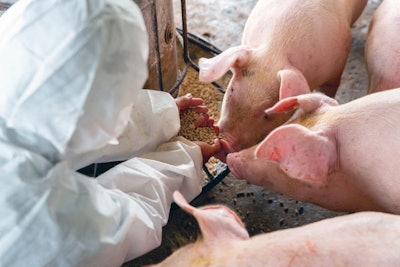 New study finds the mycotoxin deoxynivalenol reduces feed intake in pigs, but recovery may be possible
Reduced feed intake may be the primary reason why pigs that consume the mycotoxin deoxynivalenol (DON) exhibit poor growth performance, according to a new study from the Prairie Swine Centre in Saskatchewan, Canada.
The pigs in the study, all early growers, received one of four diets — a clean diet with no DON, or a diet containing one, three or five parts per million. Eleven weeks later, those fed the clean diet and the low-DON diet weighed an average of 124.9 kg, while the pigs fed the three and five parts per million diets were four to five kilograms lighter, according to the study, published this month in the Journal of Animal Science.
However, further tests revealed little difference in nutrient utilization, and no indication of organ damage in any of the pigs, regardless of how much DON they ate, according to Daniel Columbus, a research scientist at the Prairie Swine Centre and an adjunct professor in the Department of Animal and Poultry Science at the University of Saskatchewan.
While other factors such as immunity could still contribute to the decreased growth, Columbus said the study results point to reduced feed intake as the primary reason why growing pigs show decreased performance when fed DON in excess of 1 part per million.
"I don't necessarily think it's a palatability issue," Columbus said, adding that the study results did not shed light on why, exactly, the pigs on the higher DON diet ate less. "I think it's an internal physiological reaction, where once the mycotoxin is absorbed, it has some effect somewhere that says, 'oh, I shouldn't be eating this feed.'"
But that gives producers several potential strategies for mitigating the effects of DON in finishing pigs if producers are limited in their choice of feedstuffs. Columbus said the greatest feed intake reduction took place during the first three to four weeks of the study. Afterward, the pigs' eating habits began to return to normal. With an extra week or so, Columbus said, the pigs on the higher-DON diets could have caught up to the rest of the animals in the study.
"It might take longer to get there, but they ate less feed earlier on, so you have savings there with your feed cost," Columbus said, noting that the DON did not appear to affect feed efficiency. "Can you afford to keep those pigs longer? I'm not sure many producers could do that, but at least with the information is there now if that's something they want to consider."
Producers might also be able to mitigate the effects of DON by feeding diets with higher concentrations of nutrients and antioxidants, to promote overall health and counter the impact of the lower feed intake, Columbus said.