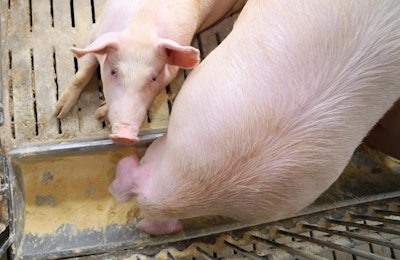 Chronic exposure to DON does not result in persistent health effects in growing pigs
Growing pigs may be more able to adapt to low levels of deoxynivalenol (DON) in their diets than previous research assumed, according to new work from the Prairie Swine Centre.
Pigs are thought to be more sensitive to DON than other livestock, with most recommendations suggesting a maximum level of 1 part per million (PPM) in pig diets, according to Dan Columbus, a research scientist at the Prairie Swine Centre at Canada's University of Saskatchewan. But the results of other DON studies in pigs have been inconsistent, Columbus said, with some showing more severe health effects below 1 PPM, and others showing fewer effects at higher levels.
In a recent trial detailed in the Journal of Animal Science, researchers at the Prairie Swine Centre fed a group of older, growing pigs diets containing graduated levels of DON from 1 to 5 PPM. Growth performance declined at the 3 and 5 PPM levels, Columbus said, but the decreased performance didn't continue as the feeding trial proceeded. After three or four weeks, the pigs had all resumed growth trajectories in line with the pigs fed a control diet free of DON.
"They got the same level of mycotoxins through the whole study," he said, "so the recovery in intake was regardless of being fed the same level of DON."
Furthermore, Columbus said the team was unable to detect any signs of lasting health effects after screening for issues in the liver and kidneys — the two organs targeted by DON. He said this could mean that the primary reason for the initial decrease in growth is reduced feed intake, which could in turn be triggered by something like a change in the way the food tastes.
If that is the case, he said, then it might be possible to feed older pigs, at least, diets containing slightly higher levels of DON, so long as the diet remains consistent.
"We've seen year after year that DON is becoming more prevalent, and the advice of avoiding feeding DON to your pigs or other livestock is going to be less and less possible to achieve," Columbus said. "It's everywhere. … We need to come up with feeding methods that allow us to incorporate it into the diet."
However, Columbus cautioned that more research is needed to confirm the results of the study and to determine if anything can be done to reverse the initial effects of introducing DON to the diet, which did result in a loss of weight that the pigs in the study never recovered.
"Their performance recovered, but the drop in body weight — that they never recovered," he said. "Even at the end of the study, they were still 5-8 kilograms lighter at market than if they were fed a controlled non-DON diet."
Columbus pointed out the study also did not consider the potential impact of DON exposure when other challenges such as disease or heat stress are present. He plans to evaluate potential outcomes in different environments in future research.
"Understanding interactive factors is going to be critical to moving forward," he said.