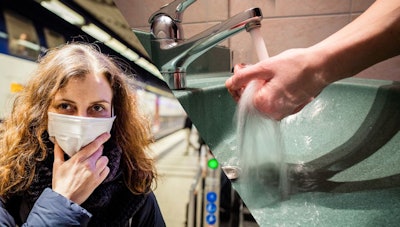 We can use our knowledge and experience from animal health to combat human health challenges
I hear the phrase "there's no silver bullet" a lot covering the agrifood industry, whether it's replacing antibiotics use in animals or biosecurity or disease control. For each of these problems, the solution is a combination of many things that work together to improve outcomes.
I'm hearing the same phrase a lot recently too when it comes to controlling the spread of the novel coronavirus (COVID-19) in humans. There is no silver bullet to mitigating its spread; we must do a combination of things, including staying home as much as possible, wearing a mask in public, washing our hands often, keeping distance from other people and avoiding gatherings.
As animal health professionals, readers of Feed Strategy know what it takes to control disease spread in animals, and many of the strategies are the same as what we are being told to do to control the spread of COVID-19 – quarantine, hygiene, disinfection. If you are reading this, there's a good chance you work in a profession that is an authority on the subject, and you can spread your knowledge and experience to help others learn what they can and should be doing to keep themselves and others around them healthy.
COVID-19 cases are surging in rural areas throughout the U.S. Perhaps you are part of a rural community like so many that are being hit hard by the virus right now. That gives you an opportunity to reach a population that may need more education or even evidence to understand that this virus is real and very serious.
We are all in this together: I stay home most of the time and wear a mask when I go out. You can use your scientific background to spread facts and information about viruses that can help save lives. And we can all set a good example, including keeping our Thanksgiving dinners small and only gathering with those who live within our household. I, for one, will be making entirely too much food for the two people in my household and dropping off full dinners on my in-laws' doorstep.
Have a safe and healthy holiday.
View our continuing coverage of the novel coronavirus (COVID-19) pandemic.