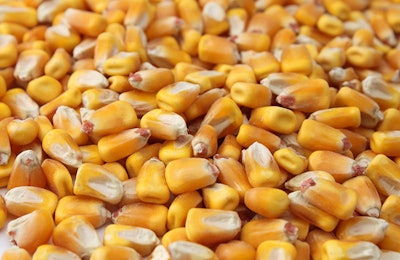 The quality of U.S. corn headed for other nations is "tracking right along," according to the latest report from the U.S. Grains Council.
The 2018/2019 Corn Export Cargo Quality Report showed little deviance in this year's outbound corn compared with recent trends, said Bryan Jernigan, a spokesman for the U.S. Grains Council. Overall corn quality was good, but this year's exports sustained more physical damage than normal, according to the report. Mycotoxin levels continue to decline thanks to favorable weather conditions.
Early corn exports have already sustained more damage than normal, with 94.7 percent of the council's 436 export cargo samples failing to meet the total damage criteria for U.S. No. 2 grade. Grains Council reports from the past five years show that total damage has trended upward since 2013, but the increase in damage sustained in storage grew more steeply in 2018-19 than in previous years, according to this year's report.
Kernels were slightly heavier and had a higher average density than normal. Moisture, oil and protein content was slightly below average; starch content was slightly higher than last year but still below average.
All of this year's samples tested below the U.S. Food and Drug Administration's (FDA) 20 parts per billion action level for aflatoxins, according to the report, and fewer samples contained detectable levels of aflatoxins than in 2017-18, continuing a trend that began in 2016, based on previous Corn Export Cargo Quality reports. The vast majority — 95.9% of samples — had no detectable levels of aflatoxin, "possibly the lowest in recent crop years," according to the report.
However, DON crept slightly upward, with fewer samples showing levels below the "Lower Conformance Level" set by the Federal Grain Inspection Service at .5 parts per million. None of the samples tested for this year's report exceeded the FDA's 5 parts per million advisory level for DON.
The U.S. Grains Council reports on the quality of U.S. corn exports annually. The council began presenting this year's report to international trade partners this month. Seminars began in Mexico during the first week of April, and will continue through May.
US grain export demand to remain strong in 2019
U.S. grain exports continue to be profitable despite Chinese tariffs because global soybean and corn export demand remains strong in the rest of the world, said Peter Rhode, vice president, and David Williams, director of global protein at Informa at the 2019 International Production & Processing Expo.