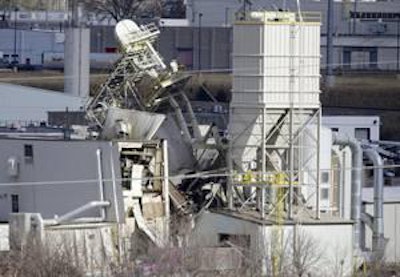 An explosion at animal feed plant in Omaha, Neb., has killed two people and injured at least 10 others, according to reports. The explosion and fire flattened part of the plant owned by International Nutrition, while about 38 employees were working in the mid-morning on January 20.
All employees at the plant have been accounted for, but authorities are unsure of whether any visitors were in the plant at the time, according to interim fire chief, Bernard Kanger. About 50 firefighters battled the blaze and rescued five people from the rubble, Kanger said.
The second and third floors of the plant collapsed on top of the first floor when key structural supports failed. Search-and-rescue experts were brought in to stabilize the building.
"There was this real loud crackling sound and the lights went off," forklift operator Kendrick Houston said in a report. "I saw a spark and there was a big ball of flame coming from the southwest corner of the building."
Houston said he left the building and tried to go back in to find co-workers, but heat and smoke forced him to turn back.
The explosion is under investigation and the Occupational Safety and Health Administration (OSHA) will determine the cause.