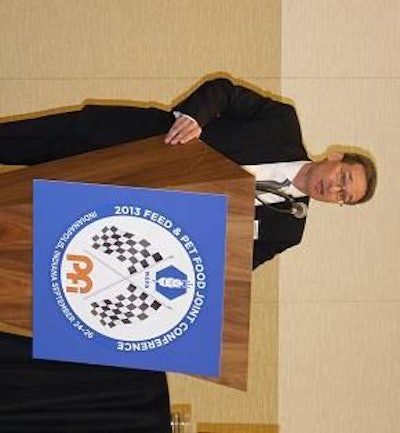 In late September, the National Grain and Feed Association (NGFA) and the Pet Food Institute (PFI) held their joint conference in Indianapolis. Much of the discussion at the event centered on the looming final draft of the Food Safety Modernization Act (FSMA) and its impact on the feed and pet food industries. During his presentation, Brian Waldman, partner with Washington, D.C.-based law firm and lobbying group, Arent Fox, outlined how feed and pet food manufacturers can influence the outcome of the final rule.
To date, FSMA has presented more questions than answers — as "it's not clear or it depends" has typically been Waldman's response when asked about the ramifications of the proposed rule. He assured the audience that the goal of the Food and Drug Administration (FDA) is not to hurt the industry while it enhances food safety; however, its proposed regulations are based on limited knowledge of the industry. For this reason, the feed industry cannot afford to take a back seat while the rule is being finalized.
"FSMA is a game changer," Waldman says, stressing that individual companies have the responsibility to become involved in the process by submitting comments to the FDA.
In Waldman's opinion, it's the industry's job to explain the implications of the proposal; clarify where the requirements are not feasible; and offer reasonable alternatives to enhance food safety without imposing unreasonable burdens.
Waldman's message to the feed industry is: "How you go into the process really affects the output." Through FSMA, the feed industry is partnering with the FDA and should be in education mode — not to "skirt its responsibilities" to the food chain, but to make it implementable.
"It's easy to identify what will not work — that's half the challenge — but be ready to propose alternatives," Waldman says. For complex, technical issues, he suggests companies invite the FDA to the facility to explain their stance, the unintended consequence of the proposed rules and why they may have a "chilling effect" on the industry.
When submitting comments to the FDA, prioritize the most important issues and "don't distract the FDA with 700 pages of comments," Waldman says. Open docket items can be viewed and comments submitted on the FSMA page of the FDA website. The 2014 edition of the Joint Feed and Pet Food Conference will be held in Omaha, Neb, Oct. 7-9. For more information, visit ngfa.org.
Arent Fox's Brian Waldman provided this "FSMA to-do list" for feed manufacturers: – Get involved. – Thoroughly understand the rules. – Make sure you have the right people at all levels in the company reviewing the proposal. – Monitor enforcement actions. – Revisit your company's inspection SOP — and train your employees on it.