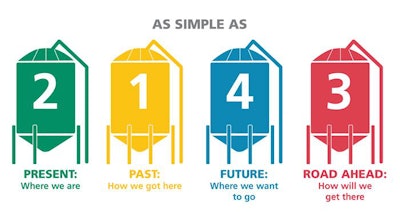 Two hundred years of animal feed production has seen impressive progress in pelleting and processing, performance-enhancing additives, precision formulation and more.
Other industries haven't been so lucky. The past 10 years have seen an unprecedented level of disruption. Airbnb disrupted the hotel business. Uber the taxis. Google the way we find answers and directions. Movie houses were disrupted and now feel so threatened by Netflix they want to ban them from the Oscars.
So, will the same thing happen to animal feed production? Is our industry going to be disrupted, and by whom? Disruptive times require a new way of planning.
Disrupting the traditional business plan
In a survey of 1,000 business leaders, I found that the traditional business plan is dead: too long, too complicated and too soon out of date.
Once written, who reads it? The traditional sequence of business planning I like to call 1-2-3-4. These numbers represent the four parts: 1) What is the history of our business; 2) what business are we in now; 3) what strategies are in place; and 4) what outcomes are we expecting from those actions?
The 2-1-4-3 model disrupts the old way of planning by changing the order. It's flexible and is created by a team in less than a week. It is a living document that eliminates unrealistic goal setting and aims to achieve superior results not seen with incremental planning.
2 – Where are we now?
1 – How did we get here?
4 – Where do we want to go to?
3 – How are we going to get there?
Reversing the order of how we think, 2-1-4-3 examines where our business is today in much more depth and detail, and where we have come from in a shorter, more relevant manner. By disrupting the order, it allows us to focus our energy and thoughts on where our business should be going and focus as a team on the path or paths to take us there.
2-1-4-3 is a new model for business, sales, marketing and life.
2-1-4-3 in practice
Animal health, nutrition and feed supplier Alltech is a clear example of disruption in the feed industry by growing from $25 million in sales of nutritional supplements and feed additives to more than $2 billion. Pearse Lyons, Alltech's founder, pushed everyone to think differently, never to predict the future by the road you were on, but to choose the road based on the destination you wanted to reach. This led the corporation to expand geographically into global markets before others to create and expand rapidly new technologies and applications and to pursue innovation.
Conducting a 2-1-4-3 with feed companies has been instructive. Many are misaligned in their focus, firefighting or spending resources on incremental opportunities. Others show a singular disconnect between the vision the management espouses and the actions of middle and senior management. Most interesting for me was a feed company that conducted 2-1-4-3s with their producer-customers and identified needs that they weren't aware of, opening completely different avenues for growth.
Even traditionally successful feed companies get caught in incrementalism and miss the chance to grow faster. Refining your business every year results in better resource allocation, investments or identifying the real key customers.
Thinking outside of the box
Engaging with ag tech startups is increasingly part of the innovation strategy of the largest feed companies. Working through 2-1-4-3 with them helps to make it clear what markets, what customers, what resources and, of course, what goals they need to pursue. Introducing them to a new customer can be enough to transform their future.
One feed company we worked with applied the 2-1-4-3 differently. Instead of using the 2-1-4-3 in their company, they applied it with their salespeople.
They called farmers who weren't buying and who said they would never buy. Instead of trying to sell to them, they asked the producers to describe what their goals and plans were. The answers received were varied: acquire more land, expand into new species, prepare for succession. Most of the farmers they called became customers within the next year.
It proved the adage that your customers don't care how much you know until you show them how much you care.
Simplified and streamlined
They key of 2-1-4-3 is to work as a team and get the plans distilled to one page. This is easier said than done.
Mark Twain is reputed to have said: "I apologize for writing such a long letter, I didn't have time to write a short one."
In more than 20 years of using the 2-1-4-3 in feed, feed additives, feed equipment and digital technologies for feed, I have found it to be a simple, but powerful business model.
Even in businesses growing slowly or not at all, with little apparent opportunities, 2-1-4-3 led to disruption and turnarounds of 30%, 50% or even a doubling of top line sales.
Remember, if you aren't thinking about disrupting your feed business, someone else probably is.
As one business guru said: "If you don't like change, you are probably going to dislike irrelevance even more."
Editor's note: Connolly's book, "As Simple as 2-1-4-3," is available on Amazon.