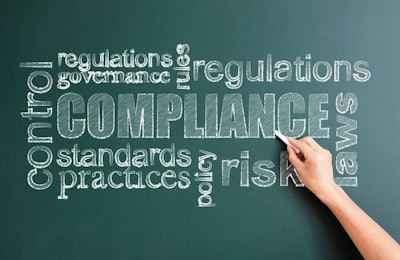 Organization, housekeeping and common courtesy are three of the suggestions that industry experts offered to help a feed mill survive a Food Safety Modernization Act (FSMA) inspection. During the Feed and Pet Food Joint Conference, scientists, officials and industry professionals discussed what feed company employees and executives should do before and during a visit by United States Food and Drug Administration (FDA) inspectors.
The National Grain and Feed Association (NGFA) and the Pet Food Institute (PFI) co-hosted the conference held in St. Louis, Missouri, from September 17 to September 19.
Preparation tips for a FSMA inspection of a feed mill
Feed mills should have specific personnel identified to meet with inspectors, said Ben Warren, Ph.D., director of product safety and regulatory affairs for Land O'Lakes, during his presentation. Beyond that designated FSMA liaison, feed mills should have backups assigned.
Everyone designated to meet with FSMA inspectors should be well versed in which records can be shared and, sometimes more importantly, which should not. Part of this is knowing which documents FSMA inspectors have a right to request.
FDA's inspectors have noted two recurrent types of problems at feed mills: pest management and housekeeping, said Jenny Murphy, consumer safety officer at FDA's Center for Veterinary Medicine, during her presentation. For example, inspectors repeatedly find unlabeled bags and boxes in facilities. Vermin are also a continuing problem, she said, meaning not just the animals' presence, but full-scale infestation issues.
FSMA inspections can last several days, but that marathon can be shortened by preparing paperwork ahead of time, Cassandra Jones, Ph.D., associate professor at Kansas State University, said. During mock inspections, she waits 45 minutes on average to get requested paperwork. Reducing that wait can trim down the time for an inspection.
"The faster that we can provide the specific documentation that's being requested, the better we can organize our documentation, the faster inspections will be, and the more it looks like you're prepared and you've taken food safety seriously," she said.
Advice for meeting with FSMA inspectors in feed mills
During a FSMA inspection, don't be surprised if more than one person gets out of the car, said Murphy. It's not a sign that something is wrong. FDA now sends trainees along with seasoned inspectors.
Feed mill employees should expect a conversation with the FSMA inspectors, she said. In those discussions, inspectors may ask about consumer complaints and business volume or request customer and supplier lists.
"They are trained to ask these questions regardless of program, Murphy said. "They are not meant as gotcha questions; they're meant to build understanding of facility history and food safety culture."
While employees are speaking with inspectors, they should avoid making too many calls to corporate for guidance, said Warren. FDA wants to know that people at the facility know the answers themselves. Everyone at the facility has to be able to speak to their program and show they understand it. Likewise, facility staff must avoid contradicting the plant's food safety program when questioned by FDA inspectors, especially in the case of longtime employees, who may not be familiar with newer protocols.
Ultimately, remember that FSMA inspectors are people too, said Murphy. Treat them as you would like to be treated. Following the Golden Rule can set the tone for the rest of the inspection.