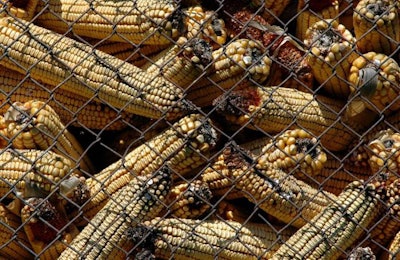 See what topics were the most popular in the animal feed industry in August.
---
The U.S. Food and Drug Administration (FDA) is investigating an animal feed company after it sold horse feed that contained a drug used in cattle and poultry feed that is toxic to horses, leading to the deaths of six horses.
Find out what molds cause what mycotoxins and what growing conditions promote them.
Find out how poultry, pigs and ruminants are affected by various toxins in feed.
Ioannis Mavromichalis: Something is missing from the puzzle that prevents us from reducing antibiotic usage to desired levels.
A top agriculture ministry official explained last week that Argentina plans to export substantial amounts of soymeal to China after the next harvest in May.
Ioannis Mavromichalis: Repeating reports point to the fact that this year's wheat crop might be one of the worst ever.
There was only one new confirmed report of mycotoxins in crops in the U.S. this week, according to Neogen's Monday Mycotoxin and Crop Report from August 13.
U.S. President Donald J. Trump says that the renegotiations of the North American Free Trade Agreement (NAFTA) are progressing with Mexico, saying that the two countries have reached a "trade understanding."
Belfast-based agri-technology company Devenish Nutrition has secured EUR118 million (US$137 million) in long-term funding to enable its research, development and growth plans.
The Jamaica Broilers Group is again expanding its presence in the United States, with the acquisition of a feed mill in Georgia.