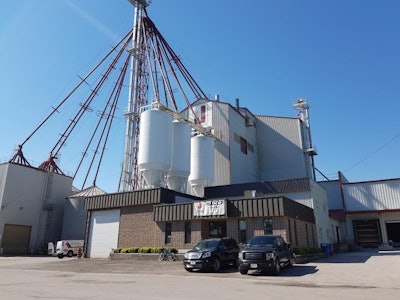 Jones Feed Mills Ltd. will construct a new, high-capacity production plant adjacent to its new office in Linwood, Ontario, Canada, according to Jones Feed Mills President Jeff Jones. He said the new plant will be capable of producing 200,000 tons of animal feed per year.
It will be built at the back of the Linwood property and stand 272 feet tall.
"The new mill will produce bulk feeds, specifically poultry, swine and beef. We have programs designed for each species. This mill will produce program-specific feeds for all sizes of producers," said Mike Edwards, manager of nutritional services with the company.
The company has an organic feed line that has helped increase the need for the current expansion.
Jones would like to see expansion within the company's current bagged feed division.
"The new plant will be bulk only. The Heidelberg mill and the existing Linwood mill are set up with modern packaging and robotic palletizing. These facilities are underutilized at this time. The new bulk mill will increase the amount of production time available at the other mills for manufacturing bagged products," Edwards said.
Jones Feed Mills' suppliers have assured the company that it will still be able to access adequate supply through its current grain sources.
Once the new mill is completed, new employees will need to be hired.
"We will need to hire more mill workers, truck drivers as well as sales and sales support staff as needed," said Edwards.
The mill is expected to be completed by the end of 2019. The company has a detailed plan and timeline set in place to avoid the need for extended summer hours or work.
The new mill will be named after George Robert Jones, in memory of Jones' father, who previously owned the company.
"The investment in this mill will better position Jones Feed Mills within the industry while it continues to demonstrate our commitment to our customers by bringing them quality feed at a fair price," said Jones in a company press release.