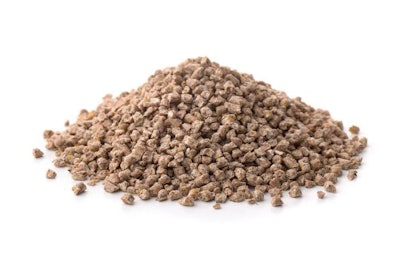 Kalmbach Feeds, a family-owned business that began 55 years ago in Upper Sandusky, Ohio, recently expanded by adding a new plant.
It consists of a concrete slip form tower standing approximately 108 feet by 53 feet by 178 feet, with an additional 30-foot basement, along with adjacent warehouse buildings for raw material storage.
The tower was constructed using approximately 4,500 cubic yards of concrete, 450 concrete trucks, more than 200 workers and a continuous pour of concrete for about 14 days. It is located on County Road 44 between U.S. Route 23 and State Route 199.
The new facility will handle grain and ingredient receiving and storage, as well as grinding, mixing, pelleting and finished feed load-out. This facility will initially have a 180,000-bushel corn bin and 12,000 bushel-per-hour unloading capabilities, along with future corn storage expansion and drying considerations. Two finished feed load-out bays are also included to increase efficiency while serving customers and drivers.
Although Kalmbach feed makes bagged feed, this new operation will be primarily for bulk feed for swine and poultry.
Kalmbach Feeds received grant funding from various companies/organizations that were used toward the expansion and upgrade of the affected portion of County Road 44, property drainage improvements and new electric power delivery systems. The other three Kalmbach mills are located just north of the new facility.
The new facility will operate very similar to the Kalmbach manufacturing facility in Carey, Ohio.
It is named after Ruth Elizabeth Kalmbach (REK), the company's co-founder.
"My mother was an integral part of the operation. She knew this business backward and forward. She became a real businessperson through the experience and she supported my dad every bit of the way," company President Paul Kalmbach told The Courier.