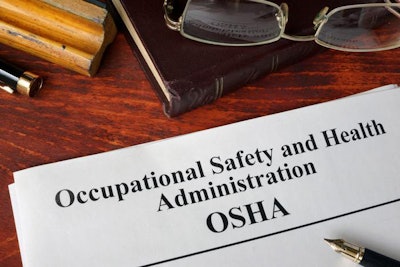 The U.S. Occupational Safety and Health Administration (OSHA) has cited a Texas feed mill after a follow-up inspection found it failed to put in place several safety measures.
Thomas Moore Feed, of Navasota, Texas, has been charged with $92,000 in penalties, eight serious violations and two repeat violations after OSHA said it "failed repeatedly to guard machinery and protect employees against fall and grain dust hazards." The company was cited for similar violations in February 2015.
The alleged violations include:
Not protecting employees from dust explosion or fire hazards
Open-sided floor or platforms not guarded by standard railings, posing a fall hazard
Exposing employees to fall hazards in the pellet mill area
Exposing pellet mill operators to excessive noise levels
Not protecting employees from struck-by hazards
Exposing employees to caught-in hazards
"Thomas Moore Feed cannot continue to expose workers to such serious hazards as unguarded machines and combustible grain dust," said Joann Figueroa, OSHA's area director in the Houston North office. "Negligence like this can be fatal, and can lead to serious injuries or worse. Employers must follow OSHA's standards to protect workers and ensure a safe workplace."
Thomas Moore Feed specializes in manufacturing animal feed and employs approximately 47 employees. The company has 15 business days to comply, request an informal conference with OSHA's area director, or contest the citations and penalties before the independent Occupational Safety and Health Review Commission.
A representative from Thomas Moore said the company will contest the citations and meet with OSHA on January 12.