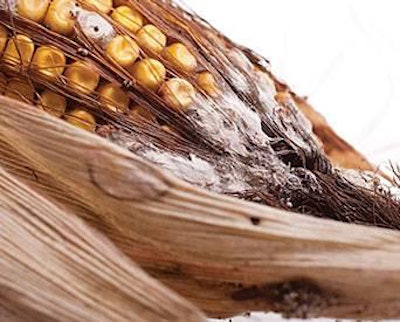 Multi-mycotoxin results from Biomin's 2014 annual Mycotoxin Survey have revealed a detailed picture of the contamination of different feed materials, obtained by the use of Liquid Chromatography-Mass Spectrometry/Mass Spectrometry (LC-MS/MS), an accurate and advanced mycotoxin testing methodology. This advanced LC-MS/MS technology holds even greater potential to strongly impact future trends in mycotoxin analysis and provide insight on the mycotoxin situation on the field.
In 2014, Biomin's survey collected a total of 814 raw materials and finished feed samples were collected worldwide and analyzed for the presence of more than 380 mycotoxins and other secondary metabolites using LC-MS/MS technology. On average, 30 different metabolites were detected in the samples analyzed (Figure 1). In only 18 out of 814 samples, fewer than 10 metabolites were discovered.
Common mycotoxin occurrences
Beauvericin, emodin, and enniatin B and B1 were the most common metabolites found in more than 85 percent of the samples analyzed. Nearly 67 percent of samples tested positive for deoxynivalenol (DON) and 55 percent for its masked form, DON-3-glucoside, and 49 percent tested positive for nivalenol. Fumonisin B1 was detected in 47 percent of the samples.
In general, B-trichothecenes, including DON, nivalenol and its masked forms, occurred in 72 percent of the samples with an average concentration of 1,103 ppb (Figure 2). Zearalenone and its metabolites alpha-zearalenol, beta-zearalenol and zearalenone-sulphate were found in 75 percent of the samples, with an average concentration of 215 ppb.
Traditional mycotoxin research has focused on the main mycotoxins like aflatoxins, trichothecenes, zearalenone, fumonisins and ochratoxins. But with highly sensitive LC-MS/MS methods, a completely new picture of the occurrence and co-occurrence of mycotoxins, emerging mycotoxins and "exotic" metabolites is revealed. Before multi-mycotoxin analysis methods, a full 309,320 individual analyses would have been required to quantify 380 metabolites in 814 samples.
The data generated by multi-mycotoxin analysis is changing our knowledge on the occurrence and co-occurrence of mycotoxins. Their role in animal health still needs to be clarified, and recommendations from authorities have not been forthcoming due to the lack of toxicological studies.
Multi-mycotoxins: more research needed
The complex situation of an average of 30 mycotoxins and other secondary metabolites in one sample in varying concentrations — leading to synergistic, additive or antagonistic effects — is not assessable with the existing toxicological methods.
For example, 95 percent of the 814 feed samples in this survey tested positive for the structurally related group of beauvericin and enniatins, with an average of 1,514 ppb and a maximum concentration of 101,898 ppb.
The European Food Safety Authority (EFSA) published a new Scientific Opinion on the health risks of enniatins and beauvericin in food and feed just recently in December 2014. EFSA stated: "The available data on the toxicokinetics of beauvericin and enniatins are limited… Given their relatively high susceptibility to Fusarium toxins and ionophores, respectively, pigs and horses should be given the highest priority. Further data on the co-occurrence of beauvericin and enniatins with other Fusarium toxins in food and feed, and the possible combined effects are required."
The situation concerning alternaria toxins — detected in 90 percent of the samples (Figure 2) — is similar, and the lack of data does not allow a precise risk assessment.
Testing technology holds key
Further toxicity studies using advanced LC-MS/MS testing methods are required to gain sufficient data on the impact of these toxins on animal health and performance.
Fusarium mycotoxins, like deoxynivalenol, zearalenone and fumonisins, are still among the most frequently occurring agriculturally relevant mycotoxins. New light shed by multi-mycotoxin analysis will no doubt further inform our understanding of mycotoxins and reinforce the strategies available for effective mycotoxin risk management.
References available upon request.