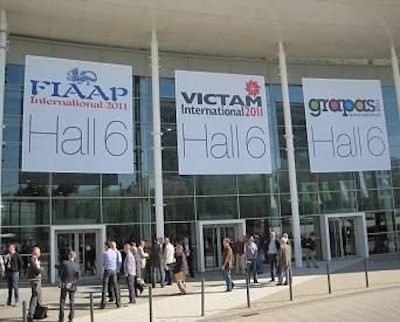 VICTAM International will celebrate its 50th year in 2015 at the Koelnmesse in Cologne, Germany, June 9-11, 2015. VICTAM International will be held this year as part of three co-located exhibitions, along with FIAAP International and GRAPAS International.
The three events will bring together animal feed ingredients and processing technology, biomass pelleting systems, flour milling and grain processing.
VICTAM is the world's largest and international exhibition and conference for the animal feed, pet food and aquafeed industries, and the biomass pelleting sector.
FIAAP exhibitors will display ingredients and additives that are necessary for the successful formulation of animal feed, aquafeed, dry pet food and specialty feeds. VICTAM will cover the latest technology and system used in the manufacture and processing of these animal feeds, aquafeed, dry pet food and specialty feeds. Many international manufacturers of biomass pelleting plants also will be on display.
A large number of companies will exhibit the essential ancillary equipment that is necessary for the smooth operation of a feed mill, flour mill or a rice mill. The latter two will be profiled in the GRAPAS trade show as this exhibition covers grain processing, storage and transportation, flour and rice milling technology, and pasta, breakfast cereal and extruded snack production. A large number of stands with ancillary equipment also will be on display.
Exhibitors
The VICTAM exhibitions display the latest and appropriate technology available that is used in the manufacture and processing of feeds for animals, pets and aquatics, together with a wide range of necessary ancillary equipment – silos, conveyors, bagging, elevators, etc. The exhibitions also showpiece the newest equipment for the production of biomass pellets.
Visitors
Visitors travel from all over the world to attend VICTAM events. These are the senior executives – CEOs, directors, mill and transport managers, nutritionists, veterinarians, feed formulators from feed mills, integrators, co-operatives, large farms, fish farms, hatcheries, pet food processors, etc. Senior personnel from biomass pelleting plants will also visit to see the large selection of equipment on display.