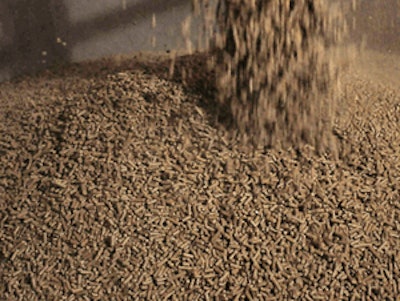 Animal health and nutrition company Alltech announced the results of its 2015 Global Feed Survey on Friday. According to the company's estimate, 2014's global compound feed production rose by 2.4 percent – specifically, growing to just under 980 million metric tons in comparison to 963 million metric tons in 2013.
"This increase is in line with the increases in meat production we've seen over the last year," reports Aidan Connolly, Alltech's chief innovation officer, who presented the survey results via webinar on Friday.
Alltech's analysis includes data gathered by its network of 600 international sales representatives – as well as numerous trade associations – to include data from 31,000 feed mills in 130 countries. The fourth edition of the annual survey aims to assess global feed tonnage and industry trends in "an area where production statistics have traditionally been difficult to quantify."
Regional analysis
Notably, the 2015 survey cites a new player in the Top 5 feed-producing country lineup as India surpassed Spain to overtake the No. 5 slot with a 10 percent spike in feed production.
Elsewhere in Asia Pacific, China's production dropped by 4 percent, particularly in the poultry sector due to its struggle with avian influenza and food safety issues. However, Indonesia, Nepal, New Zealand and Vietnam experienced "significant" increases in production.
Meanwhile, Australian feed production was down by 18 percent.
Africa proved the fastest-growing region for a third consecutive year, with 9 percent growth (34.57 million metric tons in total) despite its social and economic challenges. According to Connolly, despite high ingredient costs, the continent is the only region to see increased feed production across all species.
In North America, the United States (192.8 million metric tons) and Latin America (144.84 million metric tons) saw growth in compound feed volumes and the reported number of feed mills.
Latin American volumes were up by 4 percent overall, making it the second-fastest-growing market.
European volumes grew by 2 percent – a change from flat or declined levels in years past. Western European (U.K. and Ireland) markets dropped while Turkey and Poland experienced the most growth.
In the Middle East, which is dominated by large feed mills, total production was reported around 24.75 million metric tons, a 2.3 percent increase.
Volume-by-species at a glance
A broad look at the amount of feed produced for the major species revealed flat volumes for poultry and ruminants; however, despite various market and disease challenges, pig feed volumes rose by 5.4 percent.
Of the minor species, aquaculture has stagnated; pet food saw a slight increase (4 percent); and equine feed production declined.
Here's a recap of Alltech's 2014 estimates for total production volume by species:
Pig: 255.87 million metric tons
Ruminants (dairy + beef): 195.63 million metric tons
Poultry: 438.62 million metric tons
Aquaculture: 40.98 million metric tons
Pet food: 21.72 million metric tons
Equine: 11.26 million metric tons
The Alltech survey focuses on compound/complete pelleted and mash feed manufactured in feed mills and does not account for forages and on-farm mixing.
Taking a look back to compare the 2014 figures to past Alltech surveys, the 2013 survey cited global production to sit around 963 million metric tons, a one percent increase from 2012.