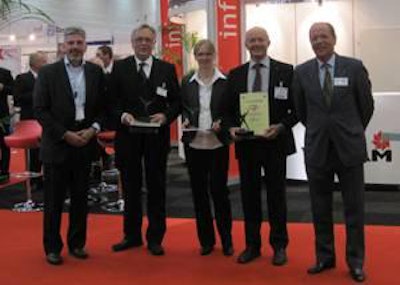 Animal feed factory and machine manufacturer Amandus Kahl's crown expander was the gold award winner at the 2011 Victam Innovation Awards in Cologne, Germany. There were 22 entries for this year's innovation awards, with Swiss manufacturer Buhler and European Machine Trading winning the silver and bronze awards.
The crown expander enables easy processing and pelleting of feed mixtures that are usually difficult to pellet. It also increases the flexibility of the expander process.
The DPEF pellet mill from Buhler received the silver award. The pellet press is the first with a direct-drive concept and an antiblocking system for the rolls. The press has a motor that reduces energy consumption by 15% and eliminates the need for V-belt changes.
European Machine Trading won the bronze award for its portable big bag filling unit. The unit consists of a big bag filling machine in three containers with a capacity of 60 tons per hour. The machine comes to the product that needs to be bagged, rather than the product being brought to the machines, resulting in transport cost savings and minimized damage to the product.
For videos from Victam International 2011:
Victam International 2011 shows growing investment in animal feed industry
Feed federation represents 85 percent feed production globally