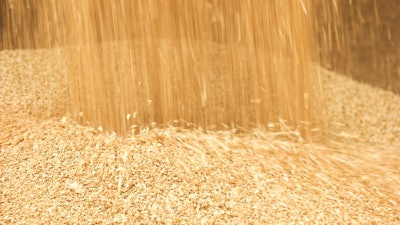 In the Europe Union (EU), a new information system will be launched to supply up-to-date information on the production, trade and prices of key commodities including grains and oilseeds.
This week, the European Commission (EC) announced a decision to collect data from EU member states on their levels of grains, oilseeds and rice.
The action has been taken in response to growing fears over food insecurity in the region since the Russian invasion of Ukraine.
According to the EC, Ukraine is the leading player in the global market for sunflower oil, supplying more than half of world trade in this commodity. It also accounts for 10% of world trade in wheat, 13% in barley and 15% of corn. Generally, the difficulty of trading with Ukraine is not expected to threaten food supplies in the EU, which is largely self-sufficient in agrifood products. However, the main challenges for this region's food supplies are increasing costs, and the indirect effects of the disruption of trade to and from Ukraine and Russia.
EC launches grain, oilseed market dashboard
In order to mitigate supply disruption and price volatility in the EU, the EC has identified a need for accurate information on levels of stock of grains, oilseeds, rice and certified seeds held in each country.
First notifications are expected at the end of July. Subsequently, they will be updated on a monthly basis. Data will cover stocks with producers, wholesalers and operators. Among the commodities to be included in the scheme are wheat, barley, corn, rapeseed, sunflower, soybeans and rice.
The EC has undertaken to make the data available with the aim to provide market transparency as well as to give a clear picture of the availability of these basic raw materials for food and animal feed.
Furthermore, the EC has also announced the launch of a new system providing the latest information on production, trade and prices of the same commodities within the EU and globally. This "dashboard" will also include forecast prices, as well various energy costs.
Main aim of the system is to offer up-to-date and relevant information on these markets in one place to operators.
Belgium relaxes organic feed rules
This month, the agriculture department in the Flanders region of Belgium (VILT) announced it is partially lifting a ban the use of non-organic raw materials in organic feeds.
In its explanation, the department stated Ukraine is a key supplier of organic feed ingredients. With supply chains from that market disrupted, challenging conditions in the organic market generally were exacerbated.
As a result, some ingredients had become impossible to source, and all prices have risen sharply. For animal nutritionists, it was becoming increasingly difficult to formulate feeds that meet the animals' nutritional requirements.
Unbalanced feeds impact animal welfare
For one ingredient — sunflower meal — the situation had become acute. Included in feed for laying birds, it helps to deliver optimum nutrition, health and welfare.
Already free-range birds were confined to their houses because of the risk of avian influenza situation. A nutritionally unbalanced diet increases the risk of laying hens starting to feather-peck, according to VILT. So a shortage of this ingredient threatened to make it more difficult for organic flock owners to maintain optimum animal welfare.
To ease this situation, VILT has announced that farmers of organic pigs and poultry in the region can use up to 5% of conventional ingredients in feeds for their animals without losing the "organic" designation.
Since the start of this year, the EU regulation on organic production has stipulated a requirement for 100% organic ingredients in feeds. This succeeded the maximum 5% inclusion level that applied up to the end of 2021. Under pressure from some member states, the EC has allowed those countries that wish it to reinstate the previous regulation.
According to VILT, this option was adopted in mid-April in the Netherlands. For farmers in the Belgian region of Flanders, the relaxation was announced at the beginning of May. Those producers wishing to take up the option were required to apply for authorization by mid-May. This authorization will be valid for a maximum of one year. It may be withdrawn by the department at any time.
In the U.S., some farmers have been considering expansion into organic soybean production. Until these become available in sufficient quantity, animal producers will continue to scramble for organic feed alternatives.